Airports in Belarus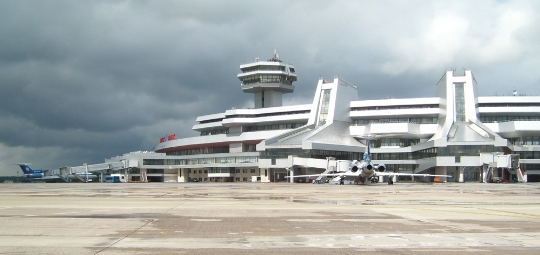 Of the seven civil airports of Belarus all haveinternational status and take flights not only from the neighboring cities of the country but also from abroad. Russian travelers can fly daily from Moscow Sheremetyevo direct flights of "Aeroflot" and "Belavia". The flight between the capitals takes about one and a half hours.
International airports in Belarus
The corresponding status was granted to seven airports in the country:
"Minsk" National Airport.
"ET" in Vitebsk.
"Brest".
"Gomel".
"Grodno".
Airport "Minsk-1".
"Mogilev"
All civilian air harbor of the country opens check-in for 2.5 hours prior to departure.
metropolitan area
A little more than 40 km on the highway share capitalrepublic and the international airport "Minsk". It is the home port of vessels national airline "Belavia" company, operates flights in more than fifty cities in the world. The main directions - European states, Russia, the CIS countries and cities of the Republic of Belarus.
Transfer to the main airport in Belarus carried out buses, taxis, taxis and electric trains:
Buses 300E hour drive to the central bus station of Minsk. The journey takes around 30 minutes.
Trains run to the station Minsk Pas. Total daily running five flights - from 7.30 to 22.30, and the railway platform is located within walking distance of the terminal building.
The arrival halls open car rentals, parking at the passenger terminal can accommodate more than 1,000 vehicles.
Among the airlines that fly inBelarus international airport "Minsk", - Air China, AirBaltic, Czech Airlines, El Al, Lufthansa, Turkish Airlines, Etihad Airways, "Aeroflot" and Ukraine International Airlines - a total of 20 airlines.
All details about the flight schedule, the infrastructure and its services can be found on the website - www.airport.by.
Spare airfields
Airport Belarus "Brest" is located 12 kilometers east of the city and receives domestic and some international flights from the CIS countries and Europe. His official website - www.airport.by.
Journey to the east of the country, you can plan,buying a ticket in Vitebsk. The airport is located 10 kilometers east of the city, and all the details on the flights and the infrastructure available on the website - www.aerovitebsk.ucoz.ru.
The city where the airport is located, "Gomel" - is south-east of the country. The passenger terminal and the center of Gomel share only 5 km away, which can be overcome by taxi or bus.
The main airport west of Belarus - "Mogilev". It is located 17 km from the city of the same name, and all the detailed information about his work can be found on the website - www.avia.by.
Photo