Grodno Streets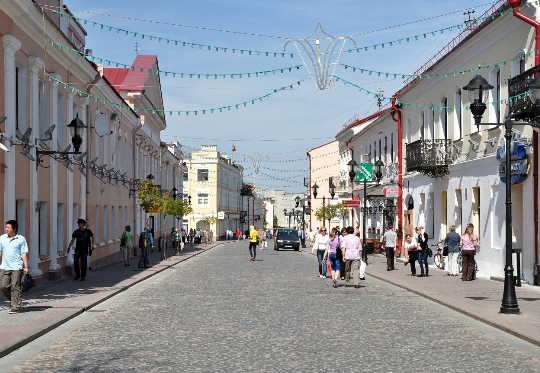 Grodno is a regional center and the mostEuropeanized city of Belarus. It is filled with historical monuments and beautiful sights. Many streets Hrodna different medieval atmosphere. The town was founded in 1128, so there are buildings constructed long ago. In Grodno and unusual modern buildings.
The most interesting places
Visiting the city conveniently from the train / railway station. From him depart streets with the usual buildings, but there are also the original home. In the central part of the Grodno each street keeps a history. There is a cobbled pavement, ancient temples and houses. Eliza Street Orzeszkowa stands out among other places. It is decorated with beautiful orthodox object - St. Basil's Cathedral. Grodno is located very many Catholic churches, there is a Lutheran church. Outside Orzeszkowa a library, named after the writer Eliza Orzeszkowa.
Walking down the street, you can walk tobiologist named Zhelibera Terrain Park. This place is characterized by spectacular scenery. To the left of the park are attractive streets, and on the right - the area with the monument to Lenin. Next passes Sovetskaya street, along which only pedestrians. She goes to the Soviet area, where there is a remarkable object - the Church of St. Francis, built in the 17th century. He is considered one of the most interesting architectural sites of the city.
Popular street Grodno - Soviet
In this area there are a lot of pubs inthe style of the Middle Ages, shops, as well as the registrar. Sovetskaya Street has colorful buildings - each house has a different color. There are orange, purple, blue, green and other buildings. On this street is the oldest operating pharmacy Belarus. It was opened in 1709 Today, one part of it a museum, while the other functions as a regular pharmacy.
Pedestrian street Soviet - is the pride of Grodno. It starts from the square of the Soviet and gradually transformed into Lenin Square. The paved roadway, European-style architecture, two-storey houses, small cafes, wrought iron lamps, signs in the Belarusian language - these details create an indescribable atmosphere. In the Soviet have the building constructed in the 15th century. It forms a medieval quarter, where there are unique architectural structures.
What is recommended to see the sights in Grodno:
Sovetskaya street;
Church of St. Francis, the temple of the Holy Cross, Church of Boris and Gleb;
old pharmacy with a museum;
Zhelibera park;
ancient castles;
Fire Tower.
Pictures of Grodno streets