Minsk district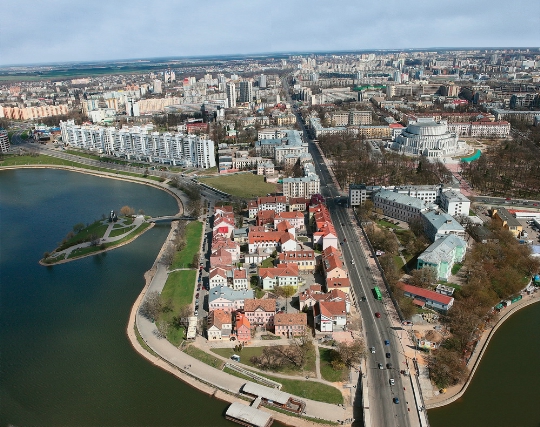 Districts of Minsk you can see on the map of the Belarusian capital - familiarized with their features, it will be easier to plan your holiday program.
Names and descriptions of Minsk district
Central: located on the shores of Lake Komsomol and Svisloch river, famous for its architectural monuments and pavilions BelEXPO (exhibition halls).
Soviet: the area is in the north of the city, has plants ( "Promsvyaz", "Drummer"), has on its territory Zlatogorsky church, monuments Akrestsin and Yakub Kolas.
Guerrilla: in the area, located on the east of the city, the bust of Zoya Kosmodemyanskaya, monuments to Dzerzhinsky and Tsiolkovsky, as well as the monument-tractor.
Pervomayskiy (district area - 2640 ha, wherethere are green spaces and water surface) is famous for High-Tech Park, the National Library, the Children's Railway, monument Kalinin.
Factory: a part of the area consists of neighborhoods Shabana, Angarsk, Chizhovka (district name is justified - then located Bearing Plant, automobile factory and other industries).
Lenin: the area includes neighborhoods Loshitsa and Serebryanka.
Moscow: covering an area of ​​1,800 hectares, more than 46 hectares of this area belongs to the green zone.
Frunze: in this area you can find Minsk Ice Palace and fitness center "Longevity".
Oktyabrsky: here are concentrated main transport artery of the city, and in the composition of the area including the National Airport "Minsk", industrial zone and Kolyadichi village of Sokol.
Attractions of the main areas
On tours of the Central Districttravelers will be offered to inspect the monument in honor of the Victory, the Holy Spirit Cathedral and Trinity Suburb (on its territory there are shops, a museum, a restaurant, a souvenir shop). As for families with young children, they should spend time in the park Gorky Park and Dreamland amusement.
Since the territory PartyzanskyIt is Slepyanskaya water system, then exploring the area, travelers in the warm season can go fishing, spend time at the beach area, to embody itself on a photo on nature background.
The factory area is famous for not only industrialbusinesses, so on vacation in Minsk, you can see the monument to Lenin busts Chaikinoi, Mishka, Gerasimenko and others. And if we talk about specific neighborhoods of Zavadski district, the different seating areas on Chizhovka can become a dolphinarium and a zoo, and Shabani - bathing and recreation complex "Shabana" (sauna, solarium, gym and rooms where classes on water aerobics and dance).
If you are interested in the sights of the Leninsky district, then they are the residence of the president, house officers, the National Academic Theater Kupala monument brothers Senko.
A Moscow district of the attractions visitors noteworthy building of the Red Church and the mosaic "October".
Where to stay tourists
Tourists are recommended to staythe historic center of Minsk - in the area of ​​Independence Avenue and Winners. They can stay in the hotels in the streets of Lenin, Myasnikov, Sverdlov, Frunze and others. And guests with a limited budget may go hotels in central Minsk within the first ring road.
Photos of Minsk district