Beaches in Minsk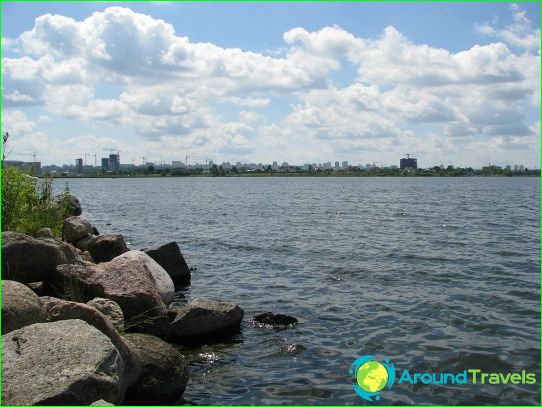 Residents of Minsk often wonder: whether their local beaches become an adequate alternative to overseas resorts? This question is not rhetorical, and the answer given hundreds of holiday makers who prefer to stay in the city and relax on the local beaches. These areas are ideal for those who still have to wait a few months vacation, and relax after a stressful everyday life want now.
The best beaches are located on the Minsk Sea Minsk. There are sandy, clean and not very crowded, because the vast majority, though, prefers to leave the city to relax. Of course, the Minsk Sea is sold only in the minds of local people - in reality it is the reservoir. This reservoir sheltered beside him for nine quite comfortable beaches, the most adapted for recreation.
Minsk beaches for all tastes: Minsk Sea
at the Minsk Sea beaches cater to even the mostfastidious travelers. Tourists can relax both on the sand and on the lawn. Scenic beauty is sure to complement the experience, and the cries of seagulls into thinking that you really relax on this seaside.
In addition to beautiful nature and clean sand, the best sandy beaches in Minsk also offer the following services and leisure opportunities:
Tables and gazebos on the nearby beaches, where you can relax a couple or the whole family
Changing rooms and showers are small.
Romantic and sightseeing tours on the boat for visitors.
A huge number of cafes and small shops, where you can always eat.
Rental barbecue and gazebo for picnics.
It should, however, understand that weekend on the local beaches a very decent amount of people, so it is desirable to take the place in the morning.
Komsomol Lake: beach for everyone
The beach at the Komsomolsk Lake is the secondpopularity on the territory of Minsk. It is interesting that the road to the beach is through a nice park where you can read a book on a carved bench and listen to the birds singing, if desired, near drinking water fountains. Thanks to ubiquitous information stands, to get lost in this park possible. Near of the beach there is a private car park with a nice price and good protection. The beach at the Komsomolsk Lake residents and tourists not only get their own cars, but also on public transport.
Changing rooms, showers, benches and arbors -All this is laid out on the beach to make the stay even more comfortable. Of course, for the amusement of the standard services of travelers is also provided: boating and catamaran sailing, beach volleyball and a playground for kids.
Photos of Minsk beaches