Minsk is the capital of Belarus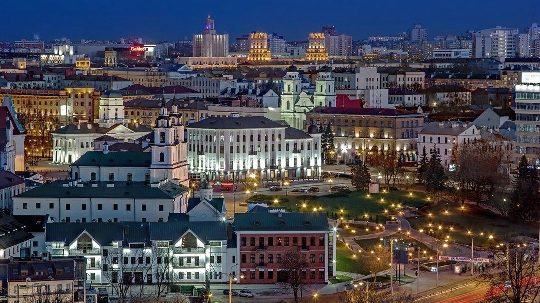 It should be noted that the capital of Belarus todayIt is one of the main places in the list of the most beautiful cities in the country. And this despite the fact that Minsk has remained very little of historical monuments and tourist attractions, most of them were destroyed during the Second World War. Yet, many visitors who come here from around the world, celebrate the extraordinary aura of the city, friendly locals and virtually absolute cleanliness of streets, parks and squares.
Where to place the capital?
If you look at the map Belarus, it is possiblesee that Minsk is located in the heart or as beautifully notice metropolitan residents - in the heart of the country. There have been proposals to move the capital to one of the regional centers, namely Mogilev. These conversations took place in the middle of the twentieth century, before the war. There have been some attempts, in particular, in Mogilev was built Government House following the example and pattern of Minsk.
Secrets of titles
There are several theories as towhy the city has such a name, but an official there, so everyone chooses their favorite. For example, one legend of the hero Menesk who lived in these places and to defend their homeland from enemies. One of the attractions of Minsk has become a monument to the founder of this peculiar city.
Some historians put forward the version thatThe original settlement was formed, not here on the banks of the river Menka 15 kilometers from the city. According to them the name of the river was transformed into the name of the settlement.
The main avenue of the country
Independence Avenue, which is located inthe center of Minsk and is considered the longest street of the Belarusian capital, in fact, claims the title of the most important. Avenue crosses almost the entire city. Here are the main and official buildings such as Government House, the Palace of the Republic, a monument to the classic of Belarusian literature Yakub Kolas of the National Academy of Sciences.
On the main street of Minsk did not keep the oldbuildings - most of them were destroyed in the war, so at the end it was decided to remove the dilapidated buildings, not to restore them and to extend the avenue.
Independence Avenue over the years changed its name several times, but still the most favorite place of walks of Minsk residents and guests.
Minsk, Belarus
Photo