Minsk Metro: map, description, photos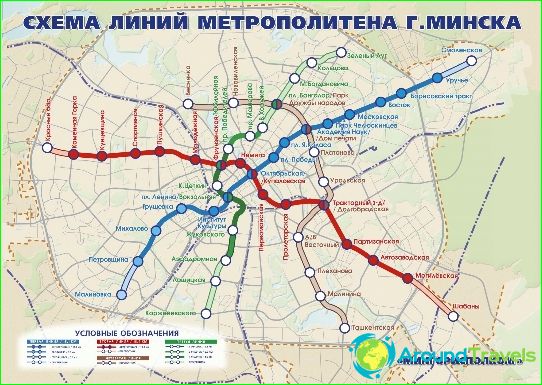 Minsk Metro - the only one in BelarusMetro, which is a system of two lines and 28 stations, the total length of roads is 35.42 km. The average passenger traffic is growing - in 2013 it amounted to almost 1 million passengers a day.. Thus, Metropolitan of Minsk occupies a third of the total volume in the city traffic.
By the end of the 60s, when the growth of the industrydemanded new skilled workers, the transport problem has become extremely urgent for the city. However, officially to discuss the construction of its underground Minsk could only after the birth in the city of one million inhabitants in 1972. The project was adopted in 1977, and in the same year, construction of the first line was launched with eight stations from the "Institute of Culture" to "Moscow". Passenger traffic began on the eve of the 40th anniversary of the liberation of the capital in Belorussia from the Nazi invaders June 30, 1984. During the first year of the underground transport services to more than 80 million people. In 1986 the line was extended by the station "Vostok". In 1985 we started the construction of the second line. In 1990 - a new line of Minsk subway was launched.

Hours Minsk metro
Minsk Metro operates from 5:30 am to 1:00 am. Interval of trains ranges from 2-2.5 minutes during peak hours and 3-4 minutes at other times (after 23.00 - to 13 minutes).

Directions to the subway in Minsk
To travel in the subway in Minsk usedtokens, tickets on the radio card and magnetic card, as well as sms-ticket (payment via mobile phone). Payment for passage in the underground works are not limited by time and distance. Since April 1, 2014 in the Minsk metro in addition to the existing payment means introduced a ticket in a contactless smart card, which will pay for travel by land passenger transport.
Photos of Minsk subway