Minsk 1 day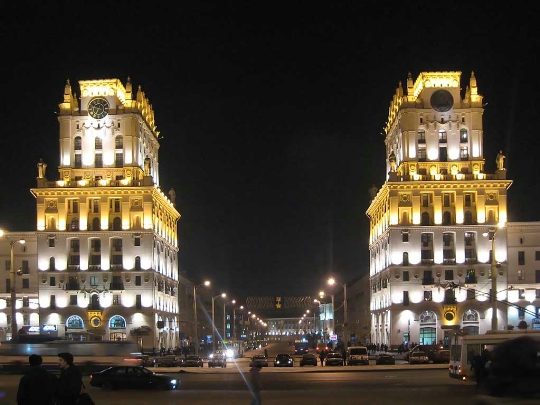 The capital of Belarus has a reputation as one of the mostclean cities in Europe. Here you can walk through the parks and squares, visit the local attractions, try the thousands of dishes from potatoes and come up with a lot of interesting entertainment, even being in Minsk on day 1.
On Freedom Square
The former was once the city's main square, itIt lost its significance during the war due to heavy erosion. Today it restored old buildings and Liberty Square can be a major pleasant impression from visiting the Belarusian capital.
The architectural dominant of the area - buildingTown Hall, built in the second half of the XVI century. The fate of the building is not easy, but its purpose is not just changed the course of time. It housed the magistrate and Music School, sat the judge and kept the old archives. At the end of the XIX century the building was used as a theater stage, which staged the play's most famous playwrights in those years. In 1857, the decree of Nicholas I, Hall was destroyed, but in 2002 the city authorities decided to restore it. Today, the white clock tower, as well as 400 years ago, recalls hurrying past the townspeople about the exact time.
Next to the town hall stands the Church of Our LadyMary, built in the baroque style of Vilnius. Cathedral Catholic church was built in the early XVIII century, the numerous donations of the city population. Having undergone changes in appearance in the Soviet years, the church has long served House sporty. In 1993, it was rebuilt in its present form and re-consecrated.
Museums and galleries
Stroll through the streets and try to pass Minsk1 day, you can go to a couple of favorite museums in the city where there are dozens. The most popular and interesting in terms of statistic:
National Museum of Art. samples of painting in different years are presented in the exposition.
Museum of the Great Patriotic War tells the story of the great feat of the Belarusian people.
History Museum of the city of Minsk. For one day you can learn all about the capital of Belarus.
Museum of coaches.
Stones Museum.
Literary Museum of Yanka Kupala. The exposition is dedicated to the works of the national poet and classic of Belarusian literature.
Walking through the city takes a lot of effort,restore that best in a cafe or restaurant. Prices on most local specialties pleasantly pleased, and the quality of any of them leads to delight even the most discerning guest.
Minsk, Belarus
Photo