New Year's Eve in Minsk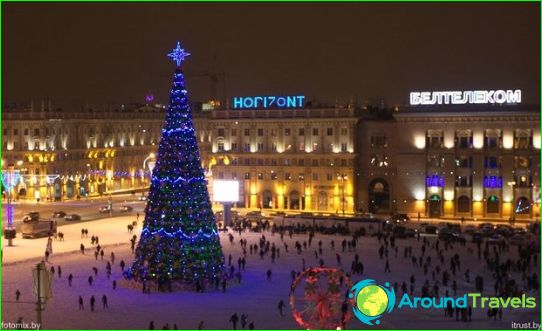 Nearest neighbor Russia Belarus - Greatoption for the winter holidays. Here, magnificent nature, hospitable people, relatively mild climate and excellent opportunities for outdoor activities, which needs so much of modern, city-dweller. That is why celebrate the New Year in Minsk is becoming popular among many Russian tourists.
Acquaintance with the city
Minsk Hotels offer accommodation in roomsa wide variety of categories, which have one thing in common: affordable prices and excellent service. Choosing a hotel and place, you can go on a walking tour of Minsk or book a bus tour. In any case, familiarity with the festively decorated town will leave the most favorable impression.
In the capital of Belarus is open a lot of museums,exhibitions and fairs. For example, a museum of ancient crafts Dudutki famous for its existing workshops in which tourists eagerly introduced to the secrets of pottery and blacksmith's craft, learn to bake bread and make furniture. Tasting traditional Belarusian delicacies, which is crowned by a trip turns out to not be more appropriate in the New Year's days. Especially, when the meal is accompanied by a fire show and presentation of the participants of the knight club.
Excursion programs offered on the newyear in Minsk, include familiarity with the city's architectural landmarks. Among them - the old churches built in XVII - XVIII centuries, the Town Hall and Nemiga street that fronts reproduce the lost historical buildings.
Balls and fairs outdoors
On site at the Palace of Sports for residents and gueststhe town on New Year's day unfolds noisy fair "Kalyadny kіrmash", where the latest products for the holiday table side by side with the traditional Belarusian souvenirs and products of craftsmen.
The sports complex "Chizhovka-Arena" in dayswinter holidays are organized Olympic balls, which are the main stars of the famous Belarusian athletes. By tradition, they celebrate for the well-deserved victory in the competition of the year, and after the official part of the time comes an exciting and varied concert program.
Photos in Minsk New Year celebrations