Viewpoints Minsk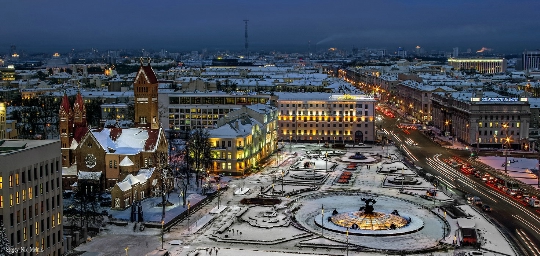 Viewpoints offer guests Minsk Belarus capital seen from the height of ancient architecture, church dome, new and unusual monuments ...
Hotel "Belarus"
Due equipped observation deck on73-meter height (delivery visitors on the 22nd floor is carried out by a panoramic lift; it is open from 10:00 to 23:00), will be able to admire the Cathedral Square, the Trinity Suburb, the memorial "Island of Courage and Sorrow" (to consider these and other objects help binoculars with 20x magnification).
Immediately, on the 22nd floor is worth visiting the restaurant"Panorama" (preferably in the evening) - guests are treated to dishes from different cuisines of the world, and offer places they will be able to admire the stunning views of Minsk. It is worth noting that the area can be rented if necessary, to organize a party, a romantic dinner and other activities.
How to get there? From the train / train station you need to get to the stop "Leningrad" by bus number 69 or 1, or a taxi number 1056 or 1055. The second option - from the Eastern Bus Station can be reached by taxi number 1055.
Address: Street Storozhevskaya, 15; the official website of the hotel: www.hotel-belarus.com
National Library
The library building, taller than 73 meters, has arombokubooktaedra form. To get to one of the best lookouts guests will be offered a panoramic lift, and see distant objects - through binoculars (optical device with a 30-fold increase).
To visit the playground is open from noon to 23:00 (it is recommended to combine with the room cafe bar "Graf Caf", located on the 22nd floor); thematic excursion "Minsk on your palm" (allowed to take pictures and video, a group formed by a maximum of 15 people) for adults will cost 20,000, and the students and schoolchildren - 15,000 Belarusian rubles (children up to 10 years - free).
Tourists will visit not only on the site forreview, but will walk on the 3 rd floor of the library building, which will allow them to learn about its features, as well as the history, technical equipment, architectural features, decoration.
How to get there? First you need to take the metro to the station "Vostok", and then to stop the "National Library" by bus number 27, 15, 80 (address: Independence Avenue, 116)
Ferris wheel
One attraction that allows you to capture photosviews from the 54-meter height, travelers will find in Gorky Park at Frunze Street, 2 (need to get to the metro station "Victory Square"; the ticket price - 20,000 rubles / open cockpit; 15000 / closed cockpit); and the other - in the park Chelyuskintsev (its height - 27 m, the ticket price - 14,000 rubles), which is located on Independence Avenue, 84.
Photo