Shops and shopping centers of Minsk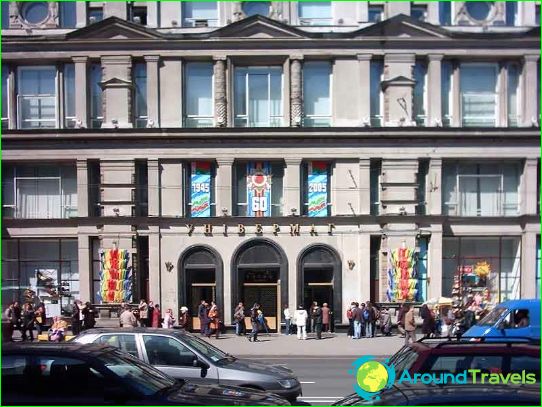 Belarus produces a large number of goodsconsumer. Even household appliances and electronics in Belarus often own production. Perhaps the design of local brands are not known for sophistication, but the quality is high and the price is low. Therefore, tourists in Minsk, the Belarusian products are popular brands. It Elema brand clothing, Bugaiux, linen Milavitsa, knitted "Kupalinka", "Svitanak" and others. Companies, shoes Belwest, Marco, haberdashery Conte, clock brand "Ray" and others. Though these brands have their flagship stores in Minsk, it makes no sense to visit them individually. Suffice it to 2-3 to visit the store in the city center, in which the entire range for the average tourist.
Shopping centers and department stores in Minsk
Department Store - located on Independence Avenue inYaqub Square area. Nearby there is a convenient parking and catering establishment "Lido". For the convenience of tourists to shop there at the Belarusian currency exchange money. Presented related services for minor repairs of clothing purchased or cutting tissue for further self-tailoring.
GUM - is also located on Independence Avenue,but near October Square. There are more products in the folk style. For example, shirts, dresses and even furniture with the Belarusian ornament. Also in GUM a large selection of women's and men's gloves. Of the associated services - currency exchange, children's room, sewing, jewelry and watchmaking.
TC "At Nemiga" - is located in the eponymous stationMetro. It features a choice porcelain tableware, linen fabrics and clothing, even a natural fur coats Vitebsk factory. As well as products for sports, electronics, stationery, etc. Because of related services -. In the shopping center has a cafe.
Shopping center "Capital" - a modern three-storey undergrounddepartment store on Independence Square. It was opened in 2006. It combines trade with related services and catering establishments. There can often be a spectator at the concert of Belarusian artists, visit the exhibition or other cultural event.
"Minsk Opening Day" - a market where you can watchor buy works of Belarusian artists, authentic folk style dolls or doll. The market is open every day except Monday. Ryadrm - metro station Oktyabrskaya.
Do not be surprised if in a department store instead of the goods packaging company pack, you wrapped it in paper. Treat this as a short tour to the Soviet past.
Photos of Minsk shops