Recreation in Minsk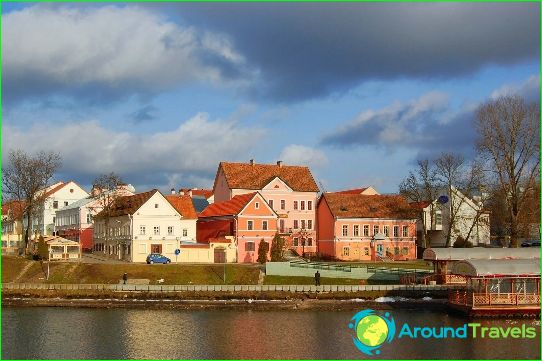 Rest in Minsk - it is an opportunity to exploreAttractions Upper Town, Rakovski and Trinity suburb, to spend time in sports and leisure centers, bars and clubs, to taste the local cuisine.
The main types of recreation in Minsk
Sightseeing: having gone to a guided tour, you will see the Town Hall, the Church of the Blessed Virgin Mary, the Church of Mary Magdalene, Church of the Holy Trinity, the House of masons Mir Castle, a memorial complex "Yama", the Palace of Republic, Minsk Opening Day, visit the Museum of the Great Patriotic War, will walk on parks and squares of the city (Central Square, Botanical garden, Park of stones, Adventureland Chelyuskintsev). You can visit the museum complex Dudutki - then you will be able to see the masters of folk crafts in the work and to practice their pottery or blacksmithing. In addition, guests are satisfied with tasting of cheeses, freshly baked bread and vodka.
Active: tourists can go diving, visiting the club "parallel world" (here there are different pools for diving). Professional trainers for a couple of sessions will teach beginners the basics of scuba diving, and children's club, a children's swimming school. In addition, in Minsk, you'll be able to play paintball (at your service - clubs "Colt", "UFO", "Bandit").
Wellness: in local health centers for treatment and rehabilitation used climatotherapy, mud therapy, phyto, hydro (pearl, turpentine white, yellow and mixed herbal, aromatic and other baths) and balneotherapy (widespread use of mineral water).
Prices for tours to Minsk
Rest in Minsk is best in May and September,when the city of warm, sunny and rarely rains. Prices for tours to Minsk fairly democratic (increase their value by 15-30% was observed in the high season), and the cheapest tickets can be purchased in the winter (with the exception - Christmas and New Year).
On a note!
If you are used to pay off bankcards, then for you there is good news - the international standard card in Minsk accept payment in all major shopping malls, hotels and restaurants.
On the central streets of the city it is safe to walk at night, but to engage in research in remote areas it is advisable to guide or as part of tour groups.
On holiday in Minsk is to bring Belaruscosmetics, watches, manufactured at the Minsk watch plant "Luch", wooden spoons, pottery, handmade jewelry boxes, figurines bison (the acquisition of antiques and art objects advisable to ask the seller to give you help and to issue an export permit - otherwise the goods may be confiscated ).
Minsk, Belarus
Photos in Minsk recreation