Tours to Minsk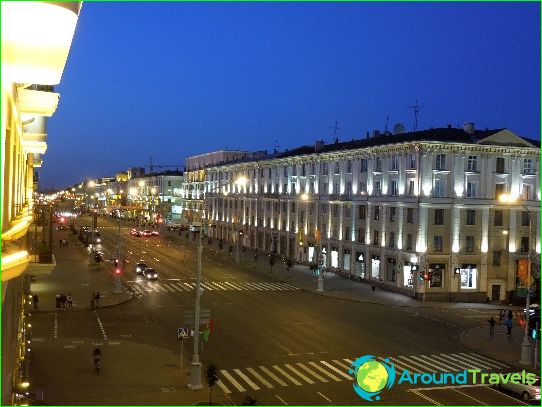 The capital of Belarus - a big modern citywith a population of about two million people. It is located in the heart of the country on the river Svisloch, and tours of Minsk can be an interesting one for a weekend or a holiday for those who are interested in the history and culture of the fraternal Russian people.
Briefly about the importance
Moderate continental climate in the capitalBelarus and the influence of the Atlantic air form the comfortable weather all year round. Summers are quite warm, but above 25 degrees the temperature rises rare. In winter, there may be not strong frosts, which are replaced by thaws.
Tours begin in Minsk to the airport orTrain Station. Fixed-wing message is represented by direct flights of Russian and Belarusian airlines and train from the capital of Russia in Minsk followed by more than a dozen times a day.
To move on the capital of Belarus can be on the subway, bus or trolley. Minibuses are also inexpensive.
To keep in touch with home while on tour in Minsk is best to buy a SIM card from a local operator. Cellular communications are high-quality and very affordable.
Hotel pool in the city is represented by dozenshotels in many different price categories. Number two-star hotel can cost up to 2000 rubles per day, and in hotels in the famous lines per night up to 10,000 rubles.
In the vicinity of the capital of Belarus worksseveral ski resorts. Although the height of slopes is not even close to the Alps or the Caucasus, a part of the winter sports enthusiasts or Logoysk Silichi always attract. Tours to Minsk of the ski slopes are selected budding athletes or those who are not chasing records. Trails are groomed and neat, and can be reached from the capital in just half an hour.
Military history
Minsk was awarded the title Hero City fora feat that made its people during the Great Patriotic War. The bombings and battles have brought devastation to the city, almost all of the old center was destroyed.
During the tour in Minsk can be seen againrebuilt after the war the city. Particularly attracted the attention of visitors its numerous monuments, each of which represents a typical Minskers - cheerful, loving to joke, workers and athletes. Lady with the Dog and the attendant, grandmother with seeds and postman - they are all created by the famous Belarusian sculptor V. Zhbanov.
Minsk, Belarus
Photo