Areas of Brest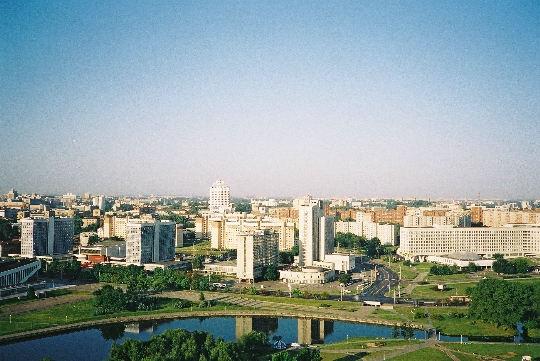 Looking at the map of the city, you can see that the areas of Brest presented two administrative units (the division of the city was made in 1978).
Names and descriptions of Brest area
Moscow area: Guests will be invited to explore the Holy Resurrection Cathedral, visit the Ice Palace (here you can skate, but on the sessions of free riding advisable to specify in advance, a skating rink, where concerts, discos and other public events; and then there are organized competitions and matches ice sports) and otovaritsya necessary goods in the shopping center "Almi".
Leninsky district: the main attractions of the area - Brest Fortress (guests will visit the ruins of the fortress, and the monumental sculptures, as well as nearby is the Museum of railway equipment, must be inspected and standing in the open air locomotives and diesel locomotives, belonging to different periods), the archaeological museum "Berestye" (it " sheltered "in its territory wooden structures related to the XIV century), the church of the Exaltation of the Holy Cross (here it is possible to hear the organ music and see the icon of the Virgin Brest) Museum of saved values ​​(here comes seized by customs pictures, icons, jewelry and other items from individuals, tries to illegally bring or take out of the country), sports complex "Brest" (equipped with a gym and sports facilities, sauna, cafe and hotel "5 rings", then football matches), Park named after May 1 (here you can walk through decorative bridges, a ride on the Ferris wheel, and children will be delighted to be able to spend time at the children's circuit), the cinema "Belarus" Brest Puppet Theatre (in his repertoire of classical and national Belarusian performances; We have a chance to visit the performances of puppet theater troupes coming here on tour of other cities and countries), Brest Drama and Music Theatre. And because the area through the river Mukhavets on holiday in Brest will be able to go fishing (you can catch catfish, walleye, perch, roach, white-eye), as well as sunbathe or sit on the bank of the river for a picnic.
During leisure in Brest worth attentionWalking through the streets of the Soviet - there are cafes and restaurants, monuments, Winter Garden (here is not only possible to admire the desert flora of the tropics and subtropics, but also to make good photos, especially at night, when the garden is illuminated by beautiful illuminations), antique lanterns with kerosene lamps, which ignites and extinguishes the lamplighter (time of ignition of lamps indicated on special hours).
Where to stay tourists
To accommodate the tourists can use any areaBrest, because all the attractions are located close to each other. A good place to stay is the hotel "Intourist", "Bug", "Belarus". But those who can stay in the hostel "Dream Hostel", which is located on Mayakovsky Street.
Photos Brest area