Coat of Brest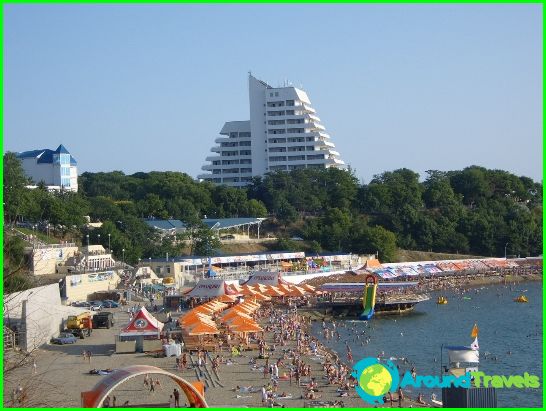 Among the official symbols of regional citiesBelarus coat of arms Brest is considered to be the most succinct and stylish. Description it only takes a few lines, but the history of the appearance of the heraldic symbol, as the history of the city, more than one century.
Magdeburg Law
The modern image of the coat of arms of Belarus officially used on June 1, 1994, that is, relatively recently. The main parts of heraldic symbols:
Baroque shield, painted in azure color;
silver bow with a taut bowstring;
silver arrow with the tip directed upwards.
It is understood that such a coat could not be usedDuring the Soviet period, ie from 1917 to the early 90s, before the Belarusian independence. in the field of heraldry experts say that this character is one of the oldest.
This is confirmed by archivists and museum workers as preserved urban print relating to the times of the Middle Ages, where there is such an image - Bow.
Coat competitor
Brest in the middle of the XVI century, was the largestcraft and trading settlement on the territories of Grand Duchy of Lithuania. Accordingly, it was free, had Magdeburg law and municipal official stamps.
Save print Brest with bow tie andboom, but there are other images with a quadrangular tower is present instead of knives. At one time it was an architectural structure in the area between the Bug and Muhovtsa, it is a kind of symbol of the city.
And then, and another image is correlated withdefense, protection of the city from outside enemies, from the point of view of the symbolism they are identical. The choice of these attributes for the coat of arms is justified by the fact that Brest was at the crossroads of trade routes, at all times, was too attractive for neighboring principalities and states.
In the middle of the XIX century, the city was calledBrest-Litovsk. City after joining the Russian Empire by Emperor Nicholas I got a new heraldic symbol. It was depicted cape from the merger already known rivers Bug and Muhovtsa, where you can see a circle of silver shield and standard, decorated with two-headed eagle.
Currently, the city returned to the originalthe emblem that adorns not only the official documents, but also the streets of Brest. This symbol reminds the citizens and guests of the courage, bravery and courage in the fight for freedom.
Photo