Streets of Brest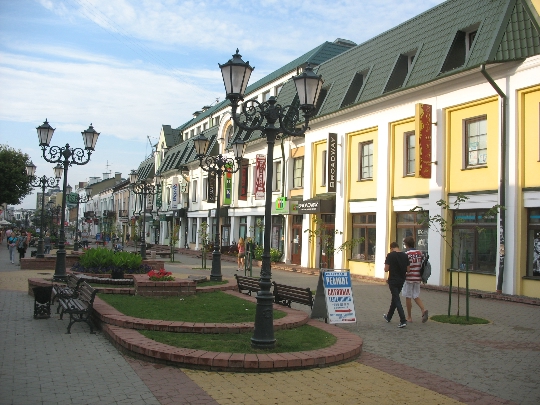 Brest - a small town main streetswhich kept the Soviet name:. Communist, Marx, Lenin, Dzerzhinsky and other Brest streets have a long history. They existed at different times, but this was not reflected in the architectural appearance of Brest. The city can not be considered a gem of the country. Where little has changed since Soviet times.
Features city streets
Brest was founded in 1019 He experienced many upheavals and included in the territory of different countries. After World War II the city having streets named in honor of the liberators and defenders of the Brest Fortress. On the outskirts there are streets with beautiful names: Raspberry, Jasmine, cranberry, pear, Cornflower, Camomile, etc.
The central pedestrian street is considered to be the siteSoviet. It is associated with the Moscow Arbat. Its length is 1700 m. Previously was called Sovetskaya million. It preserved buildings constructed in the early 20th century. The main building, attracts the eye - brotherly St. Nicholas Church, which was built on the money of sailors who participated in the Russian-Japanese war. Sovetskaya street decorated with ornate sculptures. On this beautiful street cafés, conservatory and university housing.
The most popular streets
Brest is known locally Gogol Street,badly damaged during the bombing. Thanks to the builders, it was completely reconstructed. On the street are residential buildings, various institutions, sports complex.
The famous temple of the Holy CrossIt located on Lenin Street. In the past, this street was designated as Prospect Boulevard, Prospect 17 September, Romanovsky prospectus and other. After the war, part of the street has been allocated under the same area. They have established a monument to Lenin, preserved to our days.
Among the main streets of Brest attribute Komsomolskaya,the length of which is 700 m. The most important thoroughfare of the city is Moscow street. Its western part is called the Masherov Avenue. Home Belarus road car - M1 highway, goes into the streets of Moscow.
The main attraction of the city is the Brest Fortress - a memorial complex has been preserved in the form in which it was after the events of 1944
Photos of Brest streets