Water parks in Brest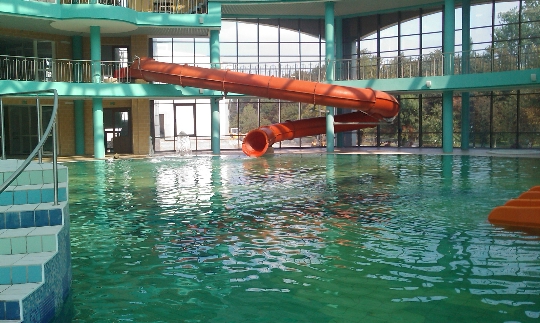 On vacation you are interested in water parks pastime? Visit Brest located near a water park - it is located in the town of Kobrin).
Kobrin water park features:
swimming pools, including a swimming pool with 5 lanes, 4 water slides, hydromassage waterfall;
medical unit with mud baths, massage,cosmetic (anti-cellulite body wrap - 330,000 rubles, lifting facial - 285000 bel.rubley / 1 procedure) and the cabinet speleotherapy and bath room (Russian, Turkish, Finnish saunas);
fitness and aerobics room;
a cafe.
Cost of 1 hour stay in the water park - 48000Br / adults bel.rubley 39000 / children from 3 years old. The cost of classes aqua aerobics - 30,000 bel.rubley / adults bel.rubley 24000 / children, and excursions to the water park (held for a group of at least 10 persons) - 4000 bel.rubley. The cost of the sauna - 66000 bel.rubley / adults bel.rubley 42000 / children. The cost of visiting the water park swimming pool + sauna + - 96000 bel.rubley / adults and 72,000 bel.rubley / children. Cost of services in the medical department: underwater shower massage - 55000 bel.rubley / 16 minutes, halotherapy - 17000 bel.rubley / 20 min, pearl bath - 35000 bel.rubley / 12 minutes Sapropelic applications - 22,000 bel.rubley / 20 minutes 1 zone.
"Controlling" the time spent in the water park,visitors helps plastic electronic bracelet worn on the hand. As for Saturday night, after 20:00 to 24:00 visitors can have fun at Aquaparty, paying for the pleasure of 90,000 rubles. Monday - the day off.
Water Activities in Brest
For those interested in the local pastimepools, pay attention to the swimming pool "Dolphin" (sessions are held free and family-friendly swimming lessons and aqua-fitness) and "Neptune" (45-minute session costs 20,000 adults bel.rubley and children - 15,000 bel.rubley ; then held still and evening sessions), as well as the Centre for Olympic Aquatics (equipped hopping, a fitness and swimming pool "Baby", a one-time visit to the swimming pool for adults - 27,000 bel.rubley / 45 min, for children - 17000 white .rubley).
Attention traveler can earnBrest Dolphinarium (the Dolphinarium when arrives in Brest, it is placed in the pool "Azure"): per-view show (children under 5 years old - free of charge, without a seat) to charge visitors 60000-90000 bel.rubley (price depends on the day and time the show) for a photo with a dolphin - 150000 bel.rubley, a 10-minute swim with dolphins - 900000 bel.rubley.
Brest will be busy and to supportersbeach holiday - they can also relax in the Central, the beach "East" or on the beach White Lake (open boat station, you can fish for pike, perch, carp, roach).
Photo