Water parks in Gomel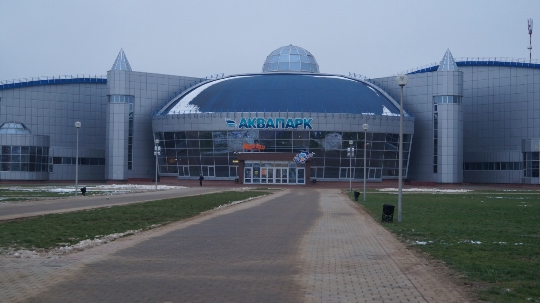 Unfortunately, that can not please Gomelthe presence of their guests water park (despite the fact that the already defined a place for building - near Mazurova streets, the authorities are unable to find an investor), but they can visit the nearest water park - it is in Zhlobin.
Waterpark has 2 zones:
Entertainment zone consists of adults andchildren's pool (for children then there are 2 children's slides and a fountain, "fungus"), a mountain river, waterfalls, "The Island" and "Niagara" water screw pile "Toboggan" (length - 73 m), whirlpool, geysers, pearl and whirlpool baths ;
The recreation area is represented by massages, saunas (Finnish, Turkish, Russian bath), solariums (vertical and horizontal).
Moreover, the complex, whereinis a water park, guests will find the cafe "Lagoon", billiards, a hairdressing salon, a computer room, children's room, a movie theater. It is worth noting that on Mondays and Tuesdays, the water park does not work.
Entrance fee (water park is open until 21:00, and tickets can be purchased until 19:30): 0-5 years old - free; children 5-12 years - 60,000 rubles / 1.5 hours (92,000 rubles for 3 hours), adults and children from 12 years old - 65,000 rubles / 1.5 hours (100,000 rubles for 3 hours); family ticket (3 people) - 174000 rubles / 1.5 hours (268 000 rubles for 3 hours). Visit the sauna is charged separately: for example, for the stay of one of the saunas have piglets to pay 320,000 rubles / 1.5 hours (780,000 rubles for 3 hours).
Water Activities in Gomel
Who can conduct a "wave" while in the poolon one of the 4 tracks (and even here you can visit the sauna and take advantage of wellness programs), or at the Palace of water sports, has 3 swimming pools, including children's and hopping, gym, jacuzzi, cedar barrel (and even then classes aqua-aerobics competitions, including water polo and diving).
Tourists should be sure to take a 40-minute journey on a pleasure boat on the river Sozh (departure: mooring at the Kiev descent).
Guests can relax on the city recommendedGomel beach (functioning water-rescue service, are equipped with a cafe and changing rooms, you can ride on a catamaran or boat), located opposite the palace and park ensemble: on the right part of it prefers to rest active young people (they go in for sports on the parallel bars and horizontal bar, playing soccer and volleyball on the equipped sites), and on the left side of the beach - older and married people with children (quieter for + small beach).
Photo