Beaches Belarus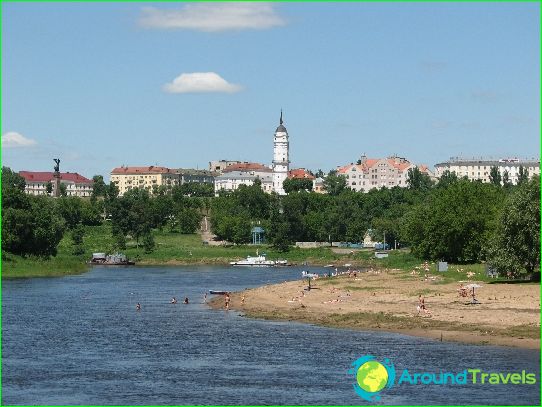 Can the rest in Belarus an alternative toTravel to Turkey or to the Maldives? Of course, if the budget is limited, you will be able to, many would say, but we should not neglect the rest surrounded by native wildlife, especially as the country is rich in a variety of surprising and extraordinarily beautiful places.
The first - is the Belarusian "the eighth wonder of the world"chalk career at Volkovysk, which are very similar to some of the Pacific island of purity and turquoise color of its waters and the high banks of snow-white soft sand, similar to whipped cream. Often the question is asked whether this is a dangerous water with chalk. The answer is - no, not dangerously, the Belarusian "Dead Sea" perfectly live fish and other river dwellers.
Second - this is one of the most popular capitalresting places, where, perhaps, are the best sandy beaches of Belarus - Minsk is the sea. This is a very picturesque reservoir, named because of its volume, "the sea". It equip nine sandy beaches, lots of entertainment, countless cafes. You can also enjoy a walk on a boat or a boat with a charming evening panorama of Minsk.
Third, as metropolitan resort, the secondpopularity - Komsomol lake. It is also fully equipped for a holiday destination with beautiful views of landscaped grounds and beach area. The capital's beaches Belarus - it is also Krynica and thrushes, which also lights up almost half of Minsk.
But not only in the capital, you can relax onbank of the river. Not for nothing called the blue-eyed Belarus, it is rich in many lakes, which are located mainly in motels or pensions sanatorium type, the majority of which are associated with their own private beaches. On the shore, for example, Naroch or Svityaz can not only relax, to correct their health, but also fishing or enjoy just relaxing on the beach under the rays of the summer Belarusian sun, and for the extreme can organize wild camping with tents and break camping village somewhere on Braslav lakes shores. Incidentally lakes located in the vicinity of Braslav more than 50, each of which is not only a picturesque corner of Belarus, but also the cultural heritage of this beautiful country. Indeed royal lesson here - this is fishing, because Braslavsky lakes there are more than 30 different species of fish. By Braslava also timed a unique nature reserve with many rare endangered animals, in which organized tours for tourists.
In general, no matter where you decide to spend your vacation, thing to remember is that the places that are close to us - lovely in many ways, unique and beautiful, and worthy of our attention.

Photo Belarus beaches