Christmas in Belarus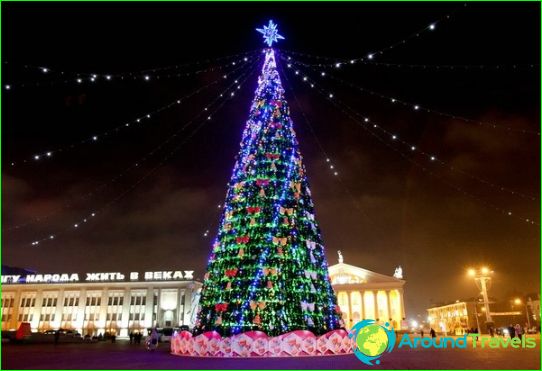 One of the main events in the calendar of the Christians,Christmas in Belarus has a long tradition and is celebrated by Orthodox. Going on a winter holiday in the country and the Bialowieza Forest "Pesnyary", you will get an unforgettable experience of communion with its hospitable people and delight in the contemplation of its pristine nature.
Tradition Through the Ages
Dinner is served on Christmas Eve Belarusians modest, sinceas a Christmas post before midnight is required to comply. Main dishes - kutia stewed fruit and dried fruit. Under the tablecloth put a little hay, which symbolizes the manger where baby Jesus slept.
Temples make on this night of worship in honor ofthe appearance of the Savior on the light, and the same decoration of streets and squares are the Christmas trees. Belarus - a country which accepted to observe cleanliness and order. Even in ordinary days is very carefully cleaned streets, trimmed lawns and trees. At holiday time the Belarusian city seem at all descended from the image. Garlands and lanterns, gold and red bows, Christmas wreaths on the doors of houses and figurines of angels in the windows of shops and cheer up the residents and guests.
Capital sets the tone
Christmas celebration in Belarus - thisexcellent opportunities to explore the local attractions. In the capital, Minsk, you can take many interesting walks through the ancient streets, see the architectural masterpieces and taste the best local cuisine in the many restaurants and cafes. Sightseeing tour of the city includes a visit to the Orthodox Cathedral and the Red Church, a tour of the Upper town, visit the museums and art galleries.
Ancient Zaslavl where Polotsk livedprinces, located just 27 kilometers from the capital, and the round trip at Christmas in Belarus - an excellent opportunity to see Zaslavsky Castle and Holy Transfiguration Church.
For skiers and their fans
Who would have thought that Belarus everIt will be positioned as a country with excellent opportunities for skiing and snowboarding? However, in recent years, the center of winter recreation in its territory comes a growing number of visitors, including those from Russia.
So Christmas in Belarus can be found atSilichi slopes or Logoysk, Yakutsk Mountains and Mozyr. All these centers are active recreation distinguishes excellent infrastructure, excellent opportunities for skiing with the whole family and a nice price for ski passes and equipment rental.
Winter holidays in the country with which the Russian tourists always tied very good neighborhood - great occasion to meet again and enjoy the successes and achievements of each other.
Photos of Christmas in Belarus