Education in Belarus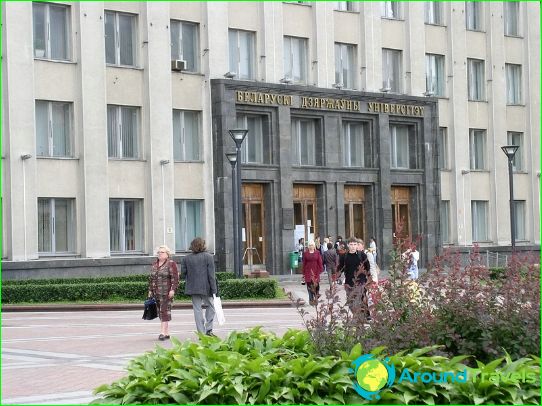 Education in Belarus is high quality and free. The main advantages of education in Belarus for the Russians:
Classes are held in Belarusian and Russian languages;
Students have the opportunity to receive a scholarship;
If it does not pass the competition in high school, you can enter the paid department.
Higher Education in Belarus
Choosing university (institute, university, academy)prospective applicant must pass an entrance exam in the form of centralized testing (the Russian analogue of the exam). To do this, you need to register in advance and come to Belarus for the exam (as a rule, testing is conducted in the second half of June).
If necessary, you can enroll in a language course (1 year), operating on the basis of pre-university training.
For admission require the following documents:
Application form;
Certificate of secondary education;
Medical health certificate;
Birth certificate and passport (copy);
Photos 4 * 6 (6-8 pieces).
Duration of study in Belarusian universities is 4-5 years, and the available forms of training are full-time, part-time and correspondence.
As for accommodation, all higher educationBelarus places equipped with departments to ensure housing for foreign students: they help to obtain a temporary residence permit and find a place of residence. However, many students prefer to live in dormitories.
Attracting foreign students
In order to attract foreign students to the country, Belarus is developing a program in English.
In addition, without having to travel from Belarus can be obtainedUK state diploma (specialty "Business Administration"). This is possible thanks to the fact that the country is open Magna Carta College (Oxford) with IBA-educational program (tuition is paid). British college universities-partners are Belarusian Institute of Law, and Baranovichi Vitebsk State University.
Features of training: in the Belarusian universities arrive at a lecture the British professor, but most training takes place on a remote classroom with online content.
Students can choose to study the subject at 2choice, but are required for the development of 6 subjects, among them - the accounting and financial accounting, information resource management, strategic management.
Get the Belarusian higher education diploma is not as prestigious as in Europe or America, but it is appreciated all over the world.
Photos schools in Belarus