Railways Belarus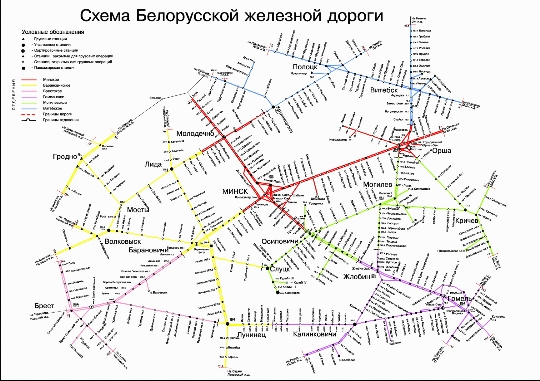 Belarusian railway systemoperated by a public association of Belarusian Railways. It is subordinate to the Ministry of Transport and Communications of Belarus. Passenger transportation is conveniently format: there are regional, inter-regional, urban and international routes. Belarus Railways BC coordinated management. routing and ticket information is presented on the official website of the company rw.by.
The main railway station
In total, the country has 320 stations and 21railway station. The country's main railway station is located in Minsk, on Station Square. It connects the capital with human settlements of Belarus and to the cities of neighboring countries (Latvia, Poland, Lithuania, Ukraine, Russia). Minsk railway station is the gateway to Belarus. This station "Minsk passenger", which is equipped with comfortable waiting rooms, benches and shelters.
Characteristic of BC
BC is characterized by deterioration of rollingcomposition. operation of many cars for a long time period has expired. On the Belarusian railway gauge of 1520 mm is applied. Railway system takes a considerable part of passenger and freight traffic. It is a leader in the public sphere of cargo transportation. the country's railway network has a high density. At the same time its quality leaves much to be desired. Only 16% of electrified railways of Belarus. Due to its geographical position the country acts as a link between East and West. The most important transport corridors are on the territory of that State. Therefore, the sphere of railway transport Belarus has international significance.
Today rolling stock is able toupdate. Experts tend to move to the high-speed movement. Particular attention is paid to such routes as Minsk - Brest, Moscow - Minsk. On these lines are already operating trains, which move at a speed of 140 km / h. The Belarusian Railway has great potential, which allows you to organize high-quality transportation. The most important element of the state of the railway system is considered to be the Minsk office, which is located at the intersection of major highways. Its lines carry a heavy load, providing over 44% of passenger traffic in the country. Minsk department serves more than 1000 km of roads. This unit aims to improve the quality of work, using innovative approaches. Minsk department aims to upgrade cars and locomotives. In recent years, management has commissioned 28 new wagons for passengers.
Pictures of trains and railway maps of roads Belarus