Kitchen Belarus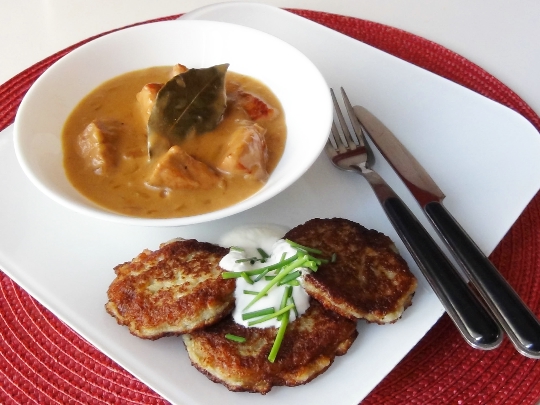 Formed over the centuries, the kitchen has undergone the influence of Russia in Belarus gastronomic traditions, Poland, Lithuania and Ukraine.
National kitchen Belarus
Vegetable №1 in Belarus - Potatoes: on the basis thereof are ready to "witches", "pancakes", "grandmother", potato casserole. In addition, potatoes are boiled, fried, stewed, baked, combined with meat, vegetables and fish. As for other vegetables as cabbage, carrots, beans, pumpkin Irepit, they often act as a filling for pies or basic ingredients for salads. And just bake them, seasoning various spices.
Belarus widespreadpickles as sauerkraut, pickled apples, pickled carrots and pickled cucumbers. Belarusian menu is not deprived of the first dishes: cold, for example, presented "mushroom kvass" (soup base - kvass, green and white mushrooms), and hot - soup "Jour" (it is cooked vegetable, dairy or vyandlinoy).
Popular dishes of Belarusian cuisine:
"Garbuzok" (pumpkin soup);
"Bigus" (a dish of stew with cabbage);
"Machanka" (a dish, in which the composition is meat with bones and sausages fried in meat sauce);
"Sirloin" (a dish being prepared smoked pork or beef tenderloin - it is served to the table, pre-rubbed with pepper, aromatic herbs and garlic);
"Smazhenoe" (fowl or poultry, baked with lots of grease).
Where to try Belarusian cuisine?
Restaurants with national color offeryour visitors enjoy as folk dishes and gourmet cuisine, which fed into the residence of the Belarusian magnates. People acquainted with this kitchen is better at one of the farmsteads - their hostess will offer you sorcerers, pancakes and other Belarusian dishes.
In Minsk, should look into the restaurant "Kamyanitsa" - he pleases visitors exclusively Belarusian dishes, but they are not easy to learn because of the delightful fantasy of local chefs.
Cooking classes in Belarus
In Minsk in the estate "Funny Hut" wishingoffer to visit the culinary workshops Belarusian cuisine (they will be welcomed with bread and salt and a glass of vodka with moonshine). A follow-up of workshops and joint work lunch (participants will learn to prepare traditional and potato pancakes with fish, mushroom watering, gingerbread, and sbiten Krambambulya) will be accompanied by a theoretical digression about the life of Belarusians and their culinary preferences.
Visiting Belarus recommended to podgadatconduct Cheese Festival (June, near Minsk), Cherry Festival (July, Deep in the Vitebsk region), the International Food Festival "Motyalskiya prysmaki" (August, agro Motol in the Ivanovo district, Brest region), the Festival of kvass (September, Lida in Grodno region) , potato Festival "Bulba-Fest" (September, ski center "Silichi" in the Minsk region).
Photo