The population of Belarus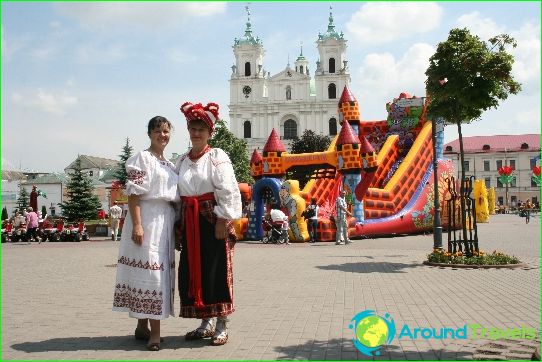 The population of Belarus is more than 9 million people (population density - 47 people per 1 km2).
National composition:
Belarusians (77%);
Russian (13%);
Poles (4%);
Ukrainians (3%);
other nations (3%)
The Belarusian people occurred at the confluenceBaltic and East Slavic tribes, the ancient ethnic foundation of Belarusians was presented Krivichy Eastern Slavic tribes, Dregovichi, glades, Drevlyane, Radimichi.
Currently residing in Belarus and has always lived representatives of Russian, Ukrainian, Polish, Tatar and Jewish nationalities.
The official languages ​​in Belarus are Belarusian and Russian.
It should be noted that the Belarusian language is a dialect 3 - central, southwest and southeast.
Most of the inhabitants of Belarus are Orthodox (70%). But the population can be found adherents of the Roman Catholic Church, the Greek Catholics and the Protestants.
Big cities: Minsk, Gomel, Mogilev, Vitebsk, Grodno and Brest.
life expectancy
Male population on average live to 64, and women - 76 years.
Men on average live less than women for 12 years: this is due to the fact that they "burn" at work, do not eat, smoking and abusing alcohol. In the early death rate of men is influenced by social causes - loneliness, social instability families.
Great is the percentage of the population of Belarus mortalitycardiovascular diseases and tumors (lung, bronchus, stomach), as well as common causes of death are external factors (poisoning, trauma, suicide).
The traditions and customs of the Belarusians
The population of Belarus cares for ancestors andthe country held the ancient pagan rituals to this day. All these ancient pagan beliefs can be traced in each of the holidays (Carnival, Midsummer, Christmas Carols).
Interesting traditions relating to marriage,which is represented by pre-wedding ceremonies (matchmaking), the wedding (meeting young, dividing a loaf) and poslesvadebnymi perezvami (Pasadena bride and groom, redemption braids).
Belarusians love to celebrate the holiday "Calling of Spring": They say goodbye to the cold weather and the urge spring by burning straw man - a symbol of winter (usually, this holiday falls on Pancake week).
Of no less importance attached to popular Belarusianscrafts (weaving, embroidery, pottery, weaving of straw and wicker, glass painting). Despite the fact that they are mainly exhibition and souvenir character, they lend themselves to the same artistic laws that hundreds of years ago.
The Belarusian nation is peaceful, tolerant towards representatives of other nationalities, law-abiding, hard-working, thrifty use of the land and the house.
Photo