Prices in Belarus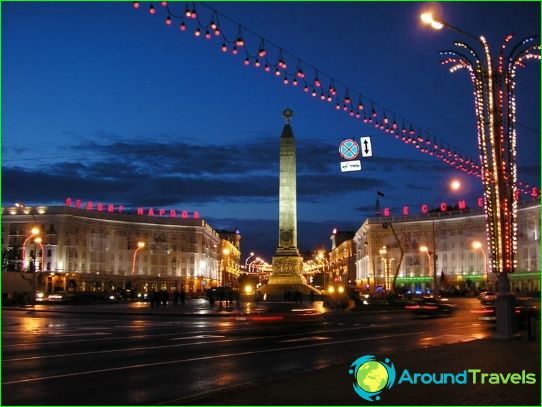 Prices in Belarus is not too high, for example, 1 liter of petrol here costs about 30 rubles, inexpensive lunch in the cafe - about 350 rubles, in a hotel room - from 1500 rubles / day.
Since the exchange Belarusian rubles(Nonconvertible currency) outside the country is not possible, do it when you can directly visit by going to one of the banks or exchange offices, which are open at airports, hotels, shopping malls. To pay for goods and services in the country can not only Belarus, but also in Russian rubles, dollars and euros.
Shopping and souvenirs
On shopping in Belarus is to come in the periodsummer and winter sales, where many products can be purchased with a 30-50% discount. Belarusian Popular shops and markets: the shopping center "Europa" (Vitebsk), the shopping center "Stolitsa" (Minsk), Polotsk market (Vitebsk), TC "Gallery" (Gomel).
In memory of the holiday in Belarus can bring:
linen goods (bags, clothing, tablecloths, napkins), and straw souvenirs (toys, hats, jewelry boxes), ceramic, wood and products made of vines, hats and boots;
Belarusian sweets (marshmallows, candy, caramel, chocolate) and alcohol (tincture of herbs and berries, fruit wines, healing balms).
In Belarus, you can buy products from birch bark100 rubles, bison figures - from 180 rubles, made of crystal - from 5000 rubles, Belarusian marshmallows - from 250 rubles, bags and clothing made of linen - from 550 rubles.
Excursions and Entertainment
On a sightseeing bus-walking tour onYou will visit Minsk on Freedom Square, Independence and Winners in the Trinity Suburb, the park named after Yanka Kupala. The approximate cost of the tour - 600 rubles.
Always worth a visit on the tour"Belarusian Skansen". The tour will begin in Minsk and will continue in the village Ozertso where the Folk Architecture and Life Museum. During the tour of the museum, which will be performed by the staff of the museum, dressed in folk costumes, for you to organize an entertainment program, accompanied by dances, songs, rituals and pastimes. The approximate cost of a 4-hour tour - 1100 rubles.
The whole family should go in Vitebsk zoo where you can see a variety of mammals, reptiles, birds, reptiles. Entrance to the zoo is only 15-20 rubles.
Transport
The most convenient way to move around the Belarusiancity ​​by taxi: each kilometer of the city costs about 15 rubles, and in the country - 17 rubles (if you use the services of an official carrier, you pay separately also for landing, while the private drivers do not charge a fee for the land). In addition, you can move around the city by bus, tram, bus, taxi. For example, for 1 ticket for the bus, you will pay about 15 rubles.
The minimum on holiday spending in Belarus will be about 1,500 rubles a day for 1 person.
Official travel video clip Belarus
Photo