Areas of Belarus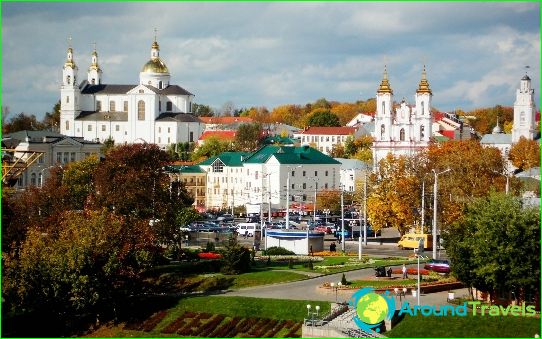 The closest Russian neighbor, the Republic of Belarus -one of the popular tourist destinations of our compatriots. Here you can relax and receive medical treatment in a sanatorium, to go to places of military glory, and to pay tribute to the fathers of their exploits in World War II and even cheap to go skiing. All areas of Belarus gladly take guests, and its inhabitants are guaranteed traveler care, attention and a home and comfort.
repeat the alphabet
The country has a fairly simpleterritorial-administrative structure and is divided into six areas of approximately equal footprint and population living in them. Opens the alphabetical list of the regions of Belarus legendary Brest. The feat of the defenders of the Brest Fortress in the last war has become a symbol of courage and perseverance.
Vitebsk region occupies the northern regioncountry and Gomel is located in the south-east. Both they form a large share in the fuel sector of the Belarusian economy. Grodno region - is the western part of the state. This is where the noise of the forest of Bialowieza Forest, recognized by UNESCO as a worthy part of the World Heritage list.
Most east of the country - it Mogilev region,famous engineering and production of chemical industry, and in the center, as befits the capital region stretches Minsk region. However, he Minsk is not included in any of the regions of Belarus and has a special status of an independent administrative-territorial unit.
Familiar strangers
Brest region of Belarus issued Territoryfar to the west and is bordered by Poland and Ukraine. By the number of attractions of interest to the traveler, this is one of the richest regions of the country:
Museum of the Brest Fortress tells of the heroic immortal garrison for many weeks to defend the country's borders by treacherously attacking enemy hordes.
Balance relic forest calledBialowieza Forest has the status of a biosphere reserve, where is preserved a unique flora and fauna. In the "living" - more than 200 species of birds and 59 species of mammals.
Kamenets Tower XIII century-perfectly preserved buildings taller than 30 meters in the Romanesque style in the town of Kamenetz.
The ruins of the palace Puslovsky the first third of the XIX century - a unique example of neo-Gothic castle, restored today Belarusian restorers.
Photo