Where to go with children in Vitebsk?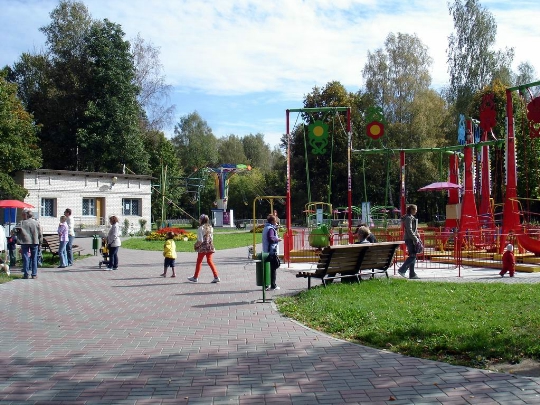 The regional center and the splendid ancient BelarusVitebsk is. Guests of the city is something to see on its territory. But where to go with children in Vitebsk to rest was interesting and memorable.
Walking in Vitebsk
Taking a walk around the city with your family, you can visitone of the theaters, amusement park or botanical garden. In Vitebsk the center is a beautiful botanical garden. It occupies a picturesque place on the right bank of the river Vitba. This garden was established in 1797, delighting visitors with its scenery. He was repeatedly altered and renamed, and today it takes about 4 hectares. It contains unique plants, not less than 1.5 000 species. Take a walk, you can see the scientists who are engaged in the study of plants in the garden. Locals believe the botanical garden one of the best places for walking.
Children will be useful to visit the theater, which putperformances of different genres. In Vitebsk works improvisation theater, youth theater "Wheel", a puppet theater. Plots for statements taken from modern and classic literature.
Another object that deserves attention - ZooVitebsk, where more than 76 species of animals. The zoo occupies about 1.3 hectares. Walking around the city, and hungry, check out the children's cafe "Sun", which offers a wide selection of dishes for kids. There's a pizza, a variety of cakes and ice cream.
The budget version of a walk - visit the mouthVitba. This is a beautiful place with pure nature, where you can see wild ducks. Children of school age and older will be interesting to visit the Victory Square. It is a stone springboard, where the celebration of the most important holidays. The western side of the square crowned grandiose monument "Three bayonets", whose height is 56 m. Nearby is the "Eternal Flame".
Active fun for the whole family
Where to go with children in Vitebsk, so that they canrun and frolic? Of course, in one of the amusement parks. Popular venues of the city is the amusement park "Jungle name", which is located in the shopping center "Rublevskiy". There are plenty of rides and play areas for children of different ages (from 2 to 11 years): slot machines, three-level maze, children's bar. Children under three years are admitted in the play area when accompanied by parents. can be ordered desserts and ice cream in the children's bar. For older children, who crave the unusual entertainment recommend zorbing. This is a fun ride in a bowl, consisting of two spheres (insurance provided). Fascinating zorbing leisure offer in Vitba park.
Photo