Christmas in Bruges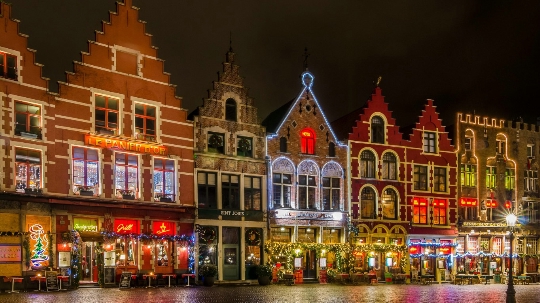 Arriving at Christmas in Bruges, you will be presented transformed medieval and ancient town - this time it turns into a beautiful, elegantly decorated, a fabulous holiday destination.
Features of the celebration of Christmas in Bruges
Belgians like Christmas - they think about itlong before the holiday, and the children write letters to St. Nicholas, asking him to bring their unique gifts in exchange for a promise to obey their parents and do not be naughty. From the first days of December comes around Saint Nicholas the Black Peter (servant Moor), which is holding a bag with gifts and the rod (for naughty children). According to legend, on December 4, he is watching the behavior of children, and returns the number of 6 to give obedient toys and sweets, while naughty - a handful of twigs.
None of the house is complete without registration"Red corner" - it is decorated with figures of the Magi, Baby, Virgin Mary and Joseph. As for the street festivals, the visitors can attend the Christmas performances involving actors in medieval costumes.
The Christmas meal is complete withoutConsumption of pork dishes and pastry ritual ( "Christmas wreath"). And after the Belgians feast the whole family, including grandparents, go to skate.
Entertainment and celebrations in Bruges
In the winter of Bruges invites everyone toFestival of ice sculptures (the event takes place in a huge tent, heat-insulated, in which the temperature is maintained at -5˚C, and tickets can be purchased at the entrance): they will be able to look at the composition, creates sculptures using ice and snow blocks. Children here are waiting for the magical characters and skating with ice slides, and adults - "ice bar", where everything is made of ice, including the bar and glasses.
On winter holidays do not miss an opportunitygive yourself an unforgettable experience - visit on a walk through the channels (you can not only enjoy the local beauty, but also hear interesting stories about Bruges). In addition, you can enjoy the city on a sightseeing tour on a horse-drawn carriage.
You want to see the whole city from the top? Climb the tower of Belfort, breaking the pre-366 steps.
Christmas fairs and markets in Bruges
Belgian city at Christmastransformed into one continuous fair - to all urban areas can be seen shopping pavilions and tents (here sell mulled wine, hot pancakes, donuts, Belgian chocolate, jewelry, leather goods, lace, Christmas decorations, fir wreaths, teddy bears), hear live music , to look at the performances stuntman, musicians and street performers.
necessarily be in the pre-Christmas timelook at the Market Square - is not only a Christmas market takes place, where the sale of products is carried out by local craftsmen, but also an opportunity to take a ride on the rink, and take part in national holidays.
Photo