Tours in Bruges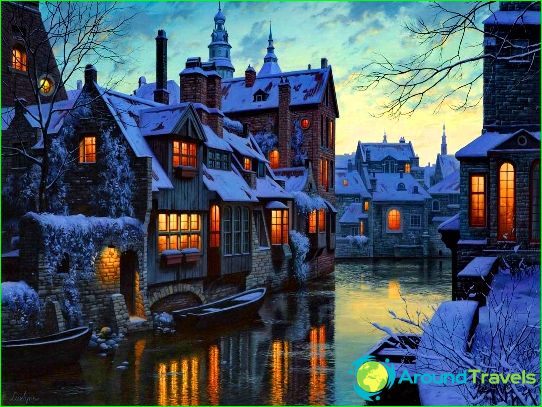 It is believed that the center of the Belgian WesternFlemish city of Bruges - is not simply one of the most beautiful cities of the Old World, but also a place best preserved medieval charm of the old flavor. It is home to little more than 100 thousand people, and the number of sites, old buildings, open-work bridges and magnificent temples exceeds the number of these in the largest cities of the world. For fans of the leisurely contemplation of eternal values ​​tours in Bruges - a worthy way to occupy themselves during the holidays or vacations.
History and geography
Only 17 kilometers away from the Belgian citythe sea, and in the Bruges has a system of navigable canals, which gave him the unofficial nickname "Venice of the North". More than fifty bridges connect the banks of canals, and the word "Bruges" is derived from the German meaning "bridge".
The first mention of Bruges appeared in the IIIcentury, and already four years later, he acted as a chief in Flanders. The development of maritime trade allowed the city to flourish and become rich, while Antwerp has not prevailed, and the people of Bruges had not again be content with little.
Today tours in Bruges allow not only to touch the history of Europe, but also to feel the medieval spirit that still reigns in the streets of the Belgian North Venice.
Briefly about the importance
International airport in town, but,arriving in Brussels, you can take the train and in just half an hour to go on the platform of the old railway station of Bruges. Not much longer for trains from Amsterdam or Antwerp.
The most pleasant and dry weather, allowinglong and comfortably walk around the city, begins in May. Thermometers inexorably approaching 18, the wind becomes warmer and rainfall - are rare and short-lived. In November, again cold, the sky clouds and the rain delay spill much more.
The most convenient way to get around the city -bus network of De Lijn. Tickets better to buy daily allowance, which give the right to make an unlimited number of trips for a fixed amount. They are sold at the driver of any bus. Take the tour of Bruges a car - not a good idea, how to find a place to park can be very problematic.
Dine better away from the main square, where prices are inflated for tourists repeatedly. The most popular goods for shopping in Bruges - the famous Belgian chocolate and diamonds gorgeous cut.
Photo