Brussels 2 days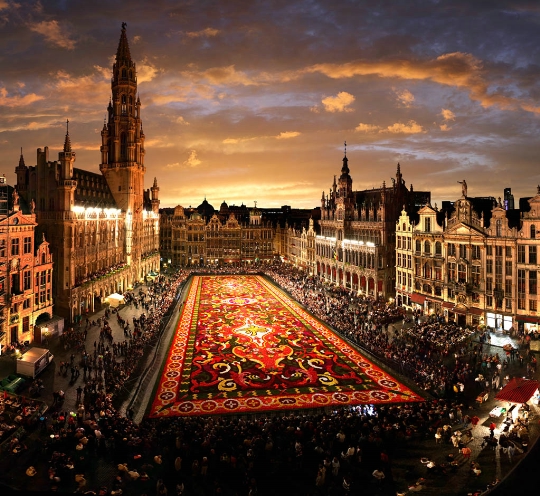 The capital of Belgium has the reputation of a politicalthe center of Europe and one of the most beautiful tourist towns of the Old World. The city grew and developed around the House of the King, and today it is considered to be the heart of the Grand-Place. In the main square and around it focused the main sights, which certainly includes the route "to Brussels for 2 days" every tourist.
Baroque and Gothic
Home Brussels area is famous for itshouses built once for the different guilds. They have a unique architecture and individual titles, which seem fabulous, and not related to the purpose buildings. The most famous house - Pup and Wolf.
Another decoration Square - Town Hall, buildwhich began in the XIV century. The architectural dominant Grand Place - patrol Town Hall Tower, with whose 90-meter height at Brussels calmly looks archangel Michael. patron of the city from the top is clearly visible house of the King, whose name is irrelevant to the purpose of this old building. Since the XIII century the King's House and had visited a prison and a warehouse, and now of Brussels organized it interesting exposition of Municipal Museum.
Boy, girl, and even a dog
In that order appeared in the capitalBelgium pissing sculpture that became symbols of the city and the most visited attractions in Brussels for 2 days. Manneken Pis is a huge walk-in closet, and on the occasion of various holidays sculpture dressed up in sumptuous costumes. Pair statue of a girl appeared in the late 80-ies of the last century, and the dog - the year before the Millennium. By the way, more than eight hundred costumes fountain sculptures are stored and shown to visitors at the museum at the House of the King.
All of Europe in a nutshell
The symbol of Brussels and is now considered a sculptureAtomium, which is a model of the crystal lattice of iron. The facility was opened in 1958 and the World's Fair became a symbol of the peaceful uses of the atom. Atomium in Brussels ascended the sky at 102 meters, its scope is available to the public and serve as lookout points.
As part of the "Brussels for 2 days" program can behave time to visit the park and Mini-Europe, which contains a copy of the most famous architectural landmarks of the Old World. On a scale of 1: 25 made of Pisa and the Eiffel Tower, the Berlin Wall and the Acropolis in Athens, the Sacre Coeur and the Big Ben in London.
Photo