Brussels for children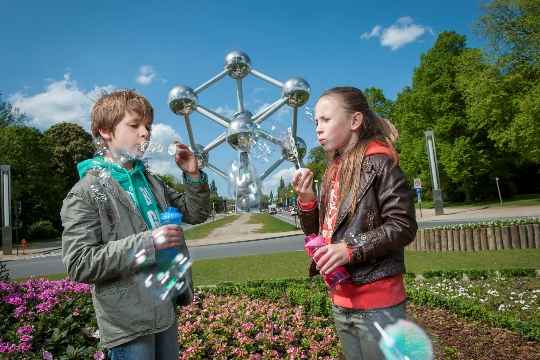 If you stay and travel for Belgium, butyet you do not know where to go and what to see with children, which can provide entertainment capital, famous monuments and museums, then you should definitely visit the Museum of Cocoa and Chocolate in Brussels. The museum with the guests conducted master classes on cooking chocolate sweets, tell the story of the origin of chocolate. Children at the entrance offer to play in the quiz, which includes a tour of the exposition of chocolate and answers to simple questions, and the output will give a sweet prize.
Older children will be of interest to suchunusual attraction is the Atomium, the famous symbol of Belgium, designed to symbolize scientific progress. This design is absolutely fantastic - increased in many times the iron atom; in large areas of carbon atoms connected by a tube junctions, there are various expositions, exhibitions with scientific advances, restaurant and even an observation deck.
Museums and exhibition for children
Museum of Natural Sciences in Brussels excellentLooking for children with a history of civilizations. The museum is not only a huge number of exhibits of minerals and insects, but also the most extensive collection of dinosaurs in Europe, models of skeletons of whales, animals, invertebrates, an underwater world.
Fun is hiking in the Children's Museum -remarkable in its reasonableness place for children 4-12 years old, full of interactive exhibits where you can engage in exciting cooking or farming, grow plants, to write screenplays.
Toy Museum in Brussels - twenty roomsGreat fun-filled planes, bears, trains and dolls. The most important thing for young campers is that almost all of the exhibits can be touched.
Camping in Belgium
In addition to various museums in the city offers for childrenand adults the opportunity to outstanding water recreation. Oceade water park on the territory of Bruparck offers tropical coast, indoor and outdoor swimming pools, wave pools, jacuzzi and saunas, a variety of water slides and children - special children's pool and water slides.
Very interesting for families with children celebratedPark Mini-Europe, which contains animated reproductions of famous sights of Europe, from the Eiffel Tower to Big Ben, Vesuvius, gondolas in Venice, Berlin Wall, high-speed train, mills, Airbus. walk in the park is not only a great way of entertainment, but also a journey of discovery for children. For outdoor recreation also fit less well known but no less interesting natural parks in Belgium where you can go with children, for example, a bird sanctuary, a butterfly garden, "Deer top".
Photo