Coast Belgium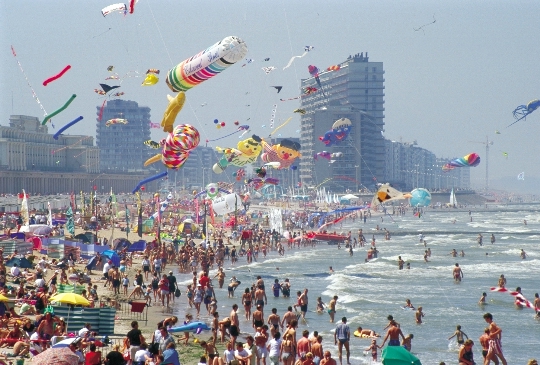 Belgium Coast (North Sea) fell by 70 km and attracts travelers who love the cool water and cool the sun (the best time to visit - June-August).
Belgium resorts on the coast (the benefits of rest)
In the resort town of De Panne, Ostend, Newporttourists will lock-hotels, new and old villas (between the coastal resorts, you can move around on trams). Nature reserve Zvin provide all interested persons an opportunity to see a variety of birds (about 100 species); a green resort De Haan offers its guests enjoy the dunes, go fishing, take a walk through the woods along the sea.
Cities and resorts on the coast of Belgium
Ostend: in the resort, you can get acquainted with the inhabitants of the North Sea aquarium "Noordzee aquarium", play games of chance at the casino "Oostende Kursaal", explore the Peter and Paul Church, to look into the house-museum of James Ensor and the museum on the water Mercator, spend time in the water park system "Sun Parks International "(there is a cafe, solarium, sauna, cascades of pools, water slides, jacuzzi, Kids Club), sailing and windsurfing, or simply bask in the sun on the local beaches (which you will find at the train station and close to the former royal villa Leopold II).
Knokke-Heist this prestigious seaside resort is ideal for lovers of kite surfing and wind surfing (you will find a 12-kilometer-long sandy beach), as well as those wishing to ride on a buggy (by renting this car, you will be able to ride on the sand dunes). In Knokke-Heist offers to go to Zwin Nature Reserve, where you will see the flora that grows in coastal areas, sea birds and various animals. And since in the reserve is sanctuary for butterflies, you will be able to admire some 400 species of these insects. If you are interested in interesting events, the podgadat trip to conduct "Kneistival" annual music festival (July).
Blankenberge: Guests of the resort will offer to inspect the 350-meter pier (it was built in 1933), the church of St. Anthony (XIV century) edition of "Old Town Hall", to spend time on the 3 km long beach, look at the North Sea inhabitants (about 70 species) in the Oceanarium "Sea Life", attend the Carnival, the Festival of sand sculptures and a parade of colors. And since the resort has a yacht club, there are regularly held regattas. As for the active pastime, at the resort you will find the casino, mini-golf, nightclubs, "Merry Velodrome".
Are you looking for a place that would allow you to relax and be inspired? Look closely at the resort, located on the coast of Belgium.
Photo