Areas of Brussels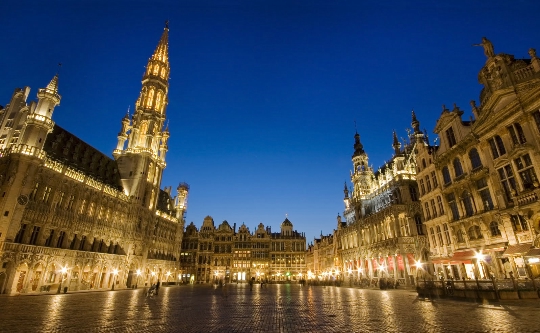 Before exploring the area of ​​Brussels, it should be noted that the city, along with other 18 municipalities included in the Brussels-Capital region (in fact they form a single city).
Names and descriptions of Brussels districts
Anderlecht (is the home district of the same nameFC) is famous brewery "Cantillon" - serves to look into the museum opened at the brewery, so that they can see the process of brewing and bottling of Belgian beers.
Auderghem: interesting Chapel of St. Anne (she used to be a Catholic, and today - Orthodox) - here are the relics of St. Anne and St. Anthony the Great.
Etterbeek: it is recommended to explore St. Anthony Church (is built in the Gothic style of red brick), Baronie is home (building 1680) and Cauchy (the house is decorated in sgraffito technique, to visit the gallery with paintings by Cauchy).
Watermael-boitsfort: Guests should spend time in the Sonian forest - it is suitable for walking, in particular, equestrian and cycling, jogging, picnics. The forest will be able to see the elk, squirrels, birds and rare plants in the form of Canadian maple and American oak.
Brussels Attractions
Armed with a tourist map of the capitalBelgium, you can go to study its important objects - Fountain "Manneken Pis" (the height of the bronze statue - 61 cm, according to a certain schedule several times a week "boy" clothes in different outfits - this process represents a colorful ceremony), the Royal Palace ( will be able to walk through the throne room and the Imperial room set where gold flower pots, and the local museum is acquainted with the archives and artefacts, which "tell" about the origin and development of the Belgian nation), Town hall (reflects the late Gothic architectural style; willing, after going through the halls Town Hall, found himself on the balcony - the observation deck, where you can take unique photos), the monument Atomium (created as a model of iron molecule enlarged 165 billion times; the top is a restaurant and observation deck, where those wishing to deliver high-speed elevator), park of the 50th anniversary (a perfect place for leisure - here is worth visiting the Museum of art and history, where you can admire the mosaic of Syrian V in. BC, medieval Belgian altars and other exhibits; Museum of Military History, where you can see military aircraft and artifacts collected by an officer Louis Leconte; museum "Autoworld" - there is a gift shop with exposed for sale miniature cars, and the exhibition, which will be able to see the 400 European and American cars, as well as pre-war machines Belgian brands).
Where to stay tourists
For stays of travelers in terms ofAMENITIES hotels near the Grand Place, but as this area is considered to be prestigious, it is reflected in the price (room in a decent hotel will cost about 120 euros). Thrifty travelers should pay attention to the hotels in the area of ​​Gare du Nord (they are characterized by relatively low prices).
Photos of Brussels districts