Holidays in Belgium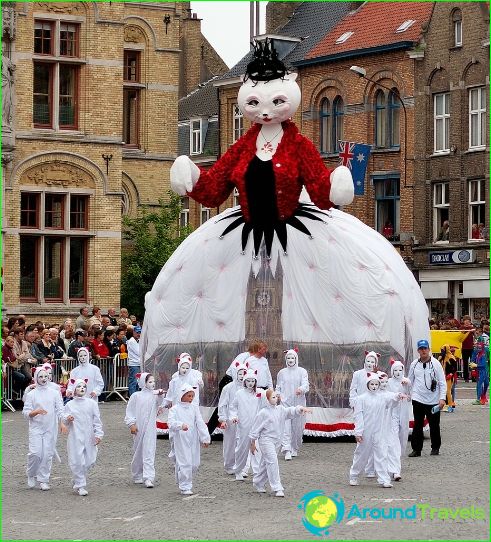 Every year in Belgium are held about two thousandvarious holidays, the reasons for which there is a great variety. Belgium Holidays features a brightness and originality, as you now see.
Celebration Ommegang
Ommegang Festival takes place on the streets of the capital, and falls into the category of folk festivals. Belgians begin the celebration on June 30 and ends at midnight on July 2nd.
holiday history goes back several centuries. The first mention in 1359 Ommegang is presented as a religious procession and only two centuries later, he became a national holiday. Over time, the religious basis was completely forgotten, and the event was transformed into a fabulous carnival.
Then for a while the feast was forgotten, but1930 began to play with new colors. These days, the main square of Brussels is transformed into a huge medieval village. Walking on it are allowed only in the event that you are dressed appropriately, namely, in the costume of the 16th century.
Holiday Dudu
The place of celebration becomes a small townMons. We have a celebration on the day of Pentecost and lasts 7 days. The holiday is a symbol of victory over the plague that raged in Europe in the Middle Ages. For the first time, Doudou held in 1349, when the plague came Mons. Then we decided to expel the disease from passing through its streets in a religious procession. The miracle happened - the plague was gone, and the procession began is held annually in memory of this.
At the end of the century in the celebration were madeelements of theater. It was from that time and there was a tradition of playing the Battle of St. George with a dragon. Presentation is carefully rehearsed actions, therefore it looks very impressive.
The Carnival of Binche
One of the brightest festivals, which canthere, in my country. He concedes the famous Venice Film Festival just one position, being the second most popular. Passes carnival before Lent and does not have a specific date.
On the first day you are given the opportunity to participate in the pageant, having walked through the streets of the city in a beautiful carnival costume.
The second day - a youth festival. The young people are divided into groups according to their political views, and then lead dances in the town square. At nightfall, near the train station in the sky colorful fireworks launch.
The third day of the carnival is traditionally belongsZhilyam. People dress in traditional costume and face masks cover the wax. Then a burst of columns mummers go to the city administration, having fun along the way that are thrown into the crowd oranges. By the way, catch this sweet orange ball is considered to be a big success.
Photo