Traditional cuisine in Belgium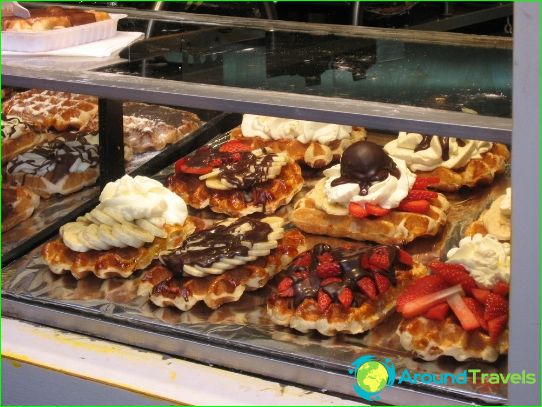 Power Belgium characterized in thatcountry everyone can find dining options for every taste and budget. Despite the fact that in the cities openly because many cafes and bistros, cost can eat in the many cafes, each of which offers its visitors a quite exquisite and inexpensive meals.
Food in Belgium
On Belgian cuisine was influenced by German andFrench culinary tradition. In addition, elements of medieval cuisine can be traced in the kitchen, as local dishes seasoned with herbs, spices and mustard, as well as in the Belgian kitchen widespread combination of salty and sweet with sweet sour.
Belgian food diet consists of vegetables,seafood, meat, fish, soups, dairy products. In Belgium, it is worth trying and potato puree other vegetables (stoemp); rabbit with prunes cooked in beer (konijn in geuze / lapin a la gueuze); beef in beer Teschen (vlaamse stoofkarbonaden); eel sauce of herbs (paling in 't groen / anguilles au ver); stewed meat or fish with mushrooms in vegetable broth ( "WATERZOOI").
Sweet tooth, for sure, want to enjoy Belgian waffles and chocolate (Leonidas, Godiva, Neuhaus, Marcolini, Galler), almond cake, caramel biscuit, creamy meringue.
Where to eat in Belgium? At your service:
cafes and restaurants, offering its visitors serves Belgian, Turkish, Mexican, Chinese and other cuisines;
sushi bars, bistros, cafes, fast food restaurants (McDonalds, Quick).
Drinks in Belgium
Popular drinks Belgians - coffee, fruit juices, beer, wine.
Locals love beer so that it is used as a basis for preparation of various dishes - marinades, sauces, gravies, dressings for soups.
Beer lovers should try the Stella Artois, Leffe, Hoegaarden, Jupiler, Duvel, but also, Kriek - beer with the taste of fruits and berries.
If you decide to visit the town of Leuven, be sure to go to the Oude Markt area - it is transformed, turning the open air in a large-scale pub every night ...
Gastronomic Tour in Belgium
Embark on a gastronomic tour of Brussels, you will visit the luxury restaurants, where you will be offered to taste the freshest seafood, freshly caught fish and delicate desserts.
If you go on a tour of "Brussels Beer", youvisit the oldest family brewery Brussels Van Roy-Cantillon and taste the famous Belgian beers. A tour "Brussels Chocolate" you will visit the Museum of chocolate and enjoy this wonderful sweet product.
Belgium is famous for not only the Gothic cathedrals and medieval castles, but also an amazing beer, sweets and national dishes.
Photos national Belgian dishes