Cuisine of Belgium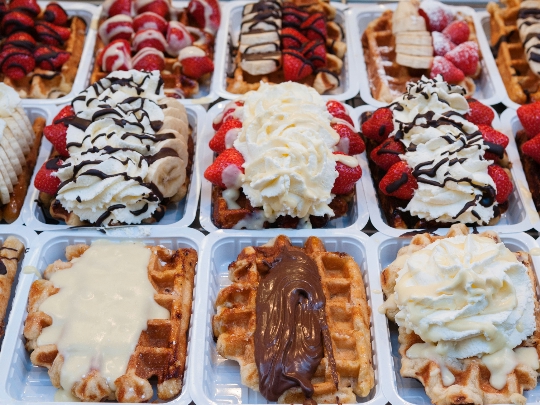 Cuisine of Belgium is based on the Dutch tradition,French and German culinary schools. In addition, it was influenced by medieval cooking: some dishes are a mix of sweet and savory or sweet and sour taste (in the preparation of dishes flavored with herbs, mustard, spices).
National Cuisine of Belgium
In Belgium, the popular soups: pea soup with smoked ham, mushroom soup, fish soup with salmon. Often, then cook oysters in broth with celery, fried mussels, rabbit in beer, salty pies with cheese, meat with mustard and honey with a spicy fruit sauce.
A special role in the country is given chocolate - hereyou can try not only black and white, and chocolate with thyme, basil melissoyili, as well as to visit the chocolate restaurants, which feed sweetly goose pate with bitter chocolate and wine, fish under chocolate sauce, ice cream with hot chocolate sauce.
Popular Belgian dishes:
"WATERZOOI" (dish of eel with nettle sauce, tarragon and mint);
"La tomato krevett" (a dish of shrimp and tomatoes, dressed with mayonnaise);
"Brussels medallions" (they are made from pork or beef liver);
"Flemish carbonate" (pork or beef tenderloin, soaked in beer and roasted with prunes);
"Flamish" (a dish of stewed chicken with grapes).
Where to try the national cuisine?
In Belgium, opened a lot of institutions that trainBelgian cuisine and dishes based on local cuisine. If you decide to visit the local coffee shop and bakery, then you can order a coffee or a refreshing Belgian chocolate, and eat most delicate pastries.
You want to save money? Pay attention to the local fast food - french fries with mayonnaise (Frith), which is sold in the respective booths (fritkoty).
We are going to send in food establishments,it is worth considering that they usually open at 12:00 and running until 15:00, after which closed before dinner (it lasts from 18:00 to 22:00, after that you can eat in the bar, open until midnight).
In Brussels, take a look at "C'est Bon C'est Belge"(Here you will be offered to eat the original Belgian cuisine homemade Meatballs with tomato sauce, and a chocolate mousse volovanov) in Bruges - in "t'Huidevettershuis" (guests are served specialties of Flemish soup, homemade ham and roast rabbit), in Antwerp - in "Matty" (many dishes in this restaurant Belgian cuisine are seasonal, which means that ordering these dishes, you can be sure that you cook them with the freshest of ingredients).
Cooking courses in Belgium
In one of the restaurants in Brussels you will be invited to visit the culinary courses that will be taught to cook a Flemish fish soup, Liege potato salad, rabbit, stewed in beer and other dishes.
The arrival in Belgium, you can podgadat to conductFestival "Taste of Antwerp" (August), the Brussels Chocolate Week (November), Festival of french fries (Brussels, November-December), gastronomic festival "Culinaria" (Brussels, May-June), Festival of Chocolate (Bruges, November-December) .
Photo