Rent a car in Belgium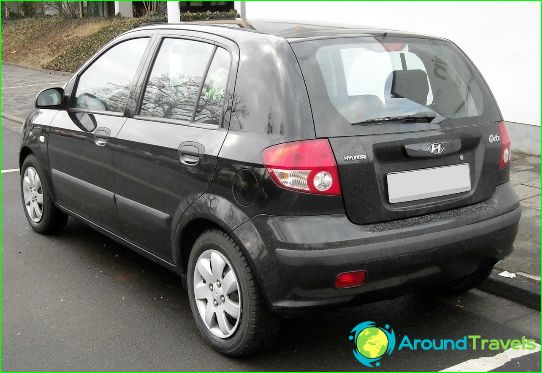 Who has not wanted to try the famous Belgianchocolate and delicious beer? But not only the taste preferences are the reason to visit this small country in Europe - many sights and wonderful nature are also able to enchant any traveler. Most of the tourists when visiting Belgium are car rental services: so you can plan your vacation to the maximum and not lose in comfort.
Terms of lease cars in Belgium
car rental services are available for persons over 21 yearsand having the experience of driving at least one year. Some companies set a surcharge for drivers under 25 years. Generally, by the age of tenant requirements depend on the machine classes: the higher it is, the older you need to be.
To make a contract you will be requireddriver's license, preferably internationally recognized, passport and credit card, as pay for services in cash is not possible. In Belgium, you can not only check the availability of funds on the card, but also to withdraw the bail. Her return as soon as you pass the car.
What we should not forget:
Learn about the possible limitation of vehicle mileage;
Return the car with the same amount of gasoline that was in the tank at the time of issuance. Otherwise you to write off the difference in price;
Advance reservation place car delivery. Some firms can independently pick up the car, even outside the country, for an additional fee, of course;
Learn telephone operator, which is necessary to call in the event of vehicle breakdown;
Carefully examine SDA unfamiliar country, to avoid trouble with the law.
On the roads of Belgium without violations and fines
All have heard about the harsh penalties in the cities of Europe. In order to not fall into the hands of the local police try to comply with the established speed limit: 50 km / h in a residential area; 70-90 km / h outside towns and 120 km / h on the motorway. Compliance regime constantly monitor cameras and automatic radars.
If the tracking tool will fix violations, allprotocols will be sent to the rental car company's address. Here they can not only pay your bills with your credit card, but also to demand from you an administrative fee.
Leave the car only in special places forParking - it is better to pay the money than to spend a long time in the area. In the cities of Belgium are 'Blue Parking Zones', where you can park for free for 3 hours. Do not forget to buy this special ticket in the form of hours, they are sold at gas stations and police stations.
Rental cars in Belgium will turn you from a tired tourist excursions in the free city dweller. Do not miss the opportunity to independent travel in such an interesting country.
Photo