Tourism in Belgium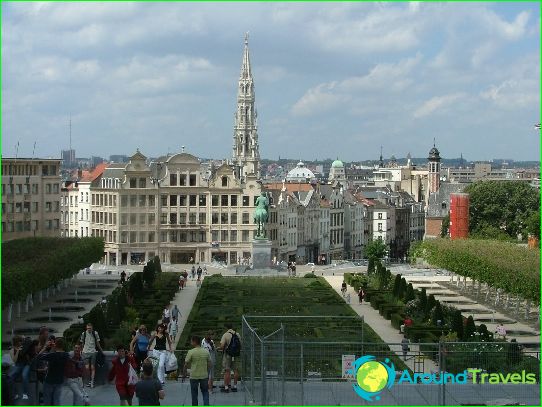 The small European state - tidbitcake (or rather, chocolate) for tourists, but for some reason, a rare guest on the trip includes only Belgium: so if got to Europe, would like to see as many countries and cities as possible.
The rich history of the country, a lot of preservedmonuments of the Middle Ages and Gothic castles suggest tourism in Belgium, one of the main components of its economy. In addition, you can relax in the country on the coast, to improve health at local resorts a good idea to spend time in shopping malls and entertainment complexes.
Greetings from Hercule Poirot
The famous detective was born in Belgium, he was standing onenforce the law, as do the current police. Tourist feels quite comfortable in the country and in the capital, and in a small remote village. There are dangerous places for visitors of Belgium, where there is to strengthen vigilance, it is - urban transport, markets and shops. It is necessary to keep valuables under the supervision of, and even better - in the hotel safe.
Symbols capital
By this monument in a hurry all travelers, fromwhichever countries they came. "Manneken Pis", set in the center of Brussels, is undoubtedly one of the most popular cultural sites. In addition, he replicated on postcards, booklets, played up in souvenirs and brings considerable income residents of the capital.
In terms of popularity, he left far behindand the famous Belgian chocolate and the finest lace, which are made according to ancient techniques and patterns, and even diamonds. However, shiny stones, though attracted by the beauty of the cut, but still not all available.
Where and what
Not only the capital of Belgium, is attractive from the point ofof tourists, but also other cities and localities. It is clear that most of the attractions are concentrated in Brussels, and in addition to the monument to the boy, to relieve themselves, there are plenty of places worth visiting.
Many tourists dream of visiting Antwerp, whereBelgium is a beautiful cathedral built in honor of Our Lady. In the same city, and not in the capital, is located halls of the Royal Museum of Art. Another favorite city travelers - Bruges, where the focus is immediately offers the world-famous Belfort. In Liege, guests can enjoy the amazing discoveries in the time of arrival - Station impress their futuristic landscapes.
A special tour can be devoted to the Belgian castles, since there enough of them, and in general they are well preserved.
Photo