Water parks in Brussels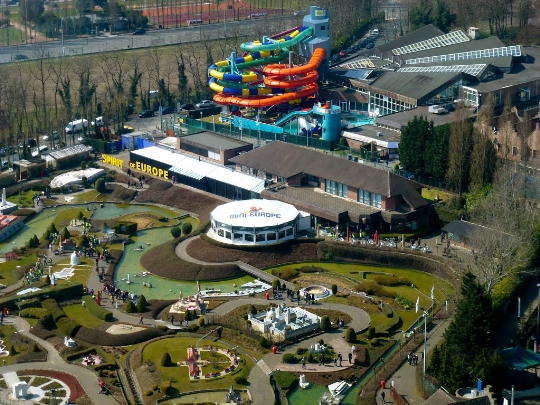 When planning a vacation in Brussels, guestscity ​​is advised to pay attention to the local water park - the glory he brought a variety of water rides (where the widest choice in the whole of Belgium).
Waterpark in Brussels
Waterpark "Oceade" features:
pools (there are pools with hydro massage and artificial waves);
14 slides, in particular, family, children, andvertiginous slides - among them is the "Barracuda" (140-meter slope, which can be overcome together), "Uragan" (for 7 seconds, you get over 80 m), "Anaconda" (the width of the roller coaster - 2.5 m), "Cannon core "(" testers "this attraction will fly out of the pipe at high speed, it is done with the" flight "above the water)," Chameleon "(backlit slide-tube lighting which constantly changes color);
a relaxation area with sauna, Jacuzzi, steam bath, solarium;
institutions of power.
Ticket price - 18 euros / 4 hours with adults(All day - 20 euros) and 15-17 euro / children (height - 1,15-1,3 m). And wishing to have the opportunity to purchase a combined ticket for 10 visits to "Oceade" - it will cost them 110 euros.
Holiday-makers in Brussels, it is necessary to advisego "Walibi" in the park - there is a small water park "Aqualibi", which will welcome them to your pool (the water temperature is + 29˚ C) with artificial waves (it is surrounded by all kinds of vegetation), slides and chutes (they achieve in the din of 140 m). In addition, visitors are entertained by shows with fantastic characters, clowns, jugglers and various animals, such as seals. Cost of the ticket, incumbent on all the rides, including water, in the course of the day - 28.5 euros.
Water Activities in Brussels
On vacation you prefer to indulge dailyitself swimming in the pool? Stay on holiday at the hotel, which operates on the territory of a swimming pool - in the "Sheraton Brussels Hotel" or "Hotel Aspria Royalla Rasante".
Brussels Guests can visit the local aquarium- Then they will see the inhabitants of warm seas - around 250 species of fish, invertebrates and amphibians (ticket price - € 7 / adult, 5 euros / children under 15 years € 6 / seniors).
Beach lovers in the summer months canspend time on the artificial beach of Bruxelles Les Bains - they will find there sand, palm trees, sun beds, umbrellas, monitor, broadcasting matches and opera masterpieces. In addition, guests at the beach engage in all sorts of entertainment (sports games, competitions in beach volleyball and petanque, building sand castles, beach parties, workshops on Latin American dances). As for children, they are entertained by animators - they play with them in the beach games, invite them to look into the creative workshops, arrange for them watching cartoons.
Photo