Shopping in Brussels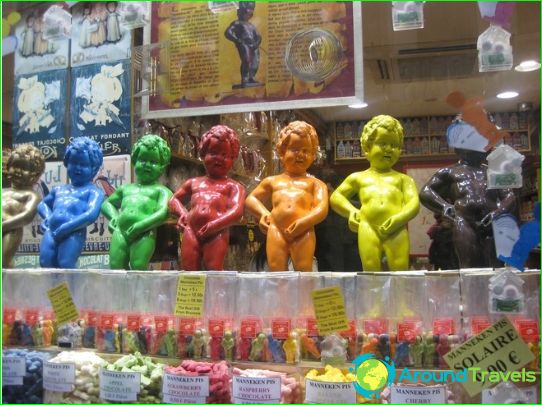 Brussels, after received the status of capitalEuropean Union has become even more international, multicultural, and ... commercial city. According to official data, the city has 139 shopping quarter, making Brussels the place where you want to spend their savings. While traveling, everyone wants to be long lasting vivid impressions and unforgettable emotions of the country. To do this, buy a souvenir are some interesting things that will long remind well spent vacation.
Brussels is ideal for shopping, it isDepending on how much you are willing to spend. Here you will find trendy shops with a variety of high quality products that can please even the most demanding shopaholic or collector. As for prices, in Brussels, they are more expensive than, for example, in London, Amsterdam, Paris or Milan. However, all may depend on where and what kind of purchase you make.
So, what to bring from Brussels? This question is asked almost every tourist visiting this city for the first time.
Chocolate. The most popular souvenir, which can bring Belgian chocolate has become of the city. Along with the Swiss chocolate is one of the best in the world and it's all thanks to the careful relation to its production and traditions. Especially popular with tourists are the pralines and truffles.
Lace. Another typical Brussels souvenirs considered Flemish lace, which previously were excessive luxury, but today - the most popular souvenir. Selection of lace products in Brussels is very high - it's pajamas, bedding, tablecloths, napkins, towels and many other interesting and beautiful little things. A true fashionista and lovers of exclusive clothing can get yourself out of lace fabric wonderful outfit. If we talk about clothes, in Brussels, there is a huge network of boutiques and shops where you can buy things from leading fashion designers.
Souvenirs. What to buy in Brussels as a souvenir? In Brussels stores you can find a lot of interesting and fun things. Naprrimer, statue Manneken Pis, which is a miniature replica of the monument Manneken-Pis. Also in the souvenir shops you can find a variety of bottle openers, lighters, and other useful items in a variety of symbols of Brussels and Belgium. Another popular souvenir is a Belgian fondyushnitsa where Belgians preparing cheese or chocolate fondue.
Beer. In Belgium, more than 300 kinds of beer. Therefore, leaving from Brussels, be sure to grab your friends for a couple of bottles of excellent Belgian beer. Along with this drink very popular in Brussels also enjoys French wine.
Well rested in Brussels, you will return home with unforgettable impressions, and with a lot of cherished things that will long remind you of the wonderful holiday.
Photos shopping in Brussels