Metro Antwerp: map, photos, description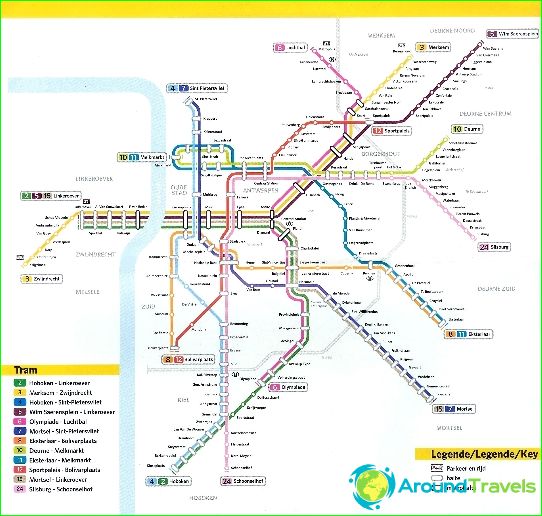 Met the second largest Belgianthe city of Antwerp is the subway with signs of urban light rail and called premetro. Total transport its network includes 11 routes, four of which are underground, and the rest - land. The total length of paths - 15 kilometers, and the number of stations an open, for entry and exit of passengers and transplant - 22.
underground tram The first phase was launched inMarch 1975. Branch stretches from Groenplaats station to Diamant, a tract length of 1.3 km. In 1980 he began to work the second portion premetro, and after ten years - opened the third. The last line put into operation in March 2006.
The predecessor of the tram on the electric driveIcon was that appeared in Antwerp in 1873. Its first line connects the city center with a church in the area Berchem streets. After ten years, the city has successfully operated a dozen horse tram routes.
At the end of the XIX century in Antwerp created a JointSociety, which was intended to develop a tramway and railways in Belgium. It has received permission to carry out works on electrification, and that was, in fact, the impetus for the development of new technologies in the construction of pathways for urban transport. First elektroopora was established in the city in 1902, and soon began a movement of electric trams. A week Icon unsuccessfully competed with new vehicles, and then completely left the street and went down in history.
Hours subway Antwerp
The city's metro opened in Antwerppassengers to enter and operate in the 4.30 to 1.00. Interval trains at peak is 6.4 minutes, whereas in other it may be hours to 8-15 minutes.

Tickets for the subway Antwerp
The cost of a trip on the subway is 1 Antwerp.20 euros for one hour. The price of travel and ticket are the same for all kinds of public transport. Cheaper to buy a pass for the whole day or a ticket for ten trips. Map of Metro lines and other public urban transport is available for free on the info desks located in the main squares of Antwerp Groenplaats and Franklin Rooseveltplaats and the train station. Racks work from eight in the morning until four o'clock in the afternoon on weekdays.
Metro Pictures Antwerp