Belmopan - Belize capital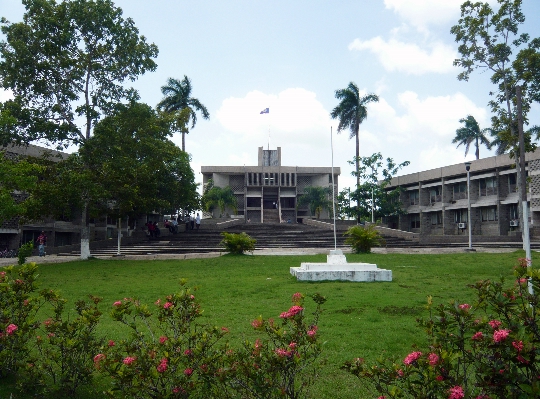 One of the countries situated in the centralAmerica, Belize, is the most attractive for tourists from the UK, because, unlike their Spanish-speaking neighbors, made the official language of English. Belize capital city Belmopan, immersed in greenery, inviting to plunge into truly heavenly delight. And nearly half of the country given the national nature reserves and parks. Riverside - This is a beautiful lagoon and coral reefs that attract a lot of fans of the underwater kingdom.
The history of the city and the capital
The territory of Belize, as well as other states,located nearby, it has often been the training ground for storms of different strengths. The largest number of the devastation left after across the country walked Hurricane Hattie with a beautiful name. Belize City is the center existed at the time a British colony, was destroyed almost 75%.
Therefore, it was decided to buildthe new capital, which will be located away from the coastline. The Committee chose the site in 82 kilometers from the city of Belize, it is here now and is located in Belmopan.
However, it is known that local authorities were notreluctant to leave the coast, already inhabited territory. Yet today, government buildings are an independent state in the new capital, and many embassies.
Secrets of titles
Since the city is built on a completely newa place where there was no earlier settlements, the question arose about the capital's name. It was decided to merge the two river place names, "Belize", the largest water flow in the country, and "mop" - Belize inflows. This name is justified, because the main administrative center of the country is located at the confluence of two major waterways.
Cultural and natural treasures
It is understood that Belmopan itself may not be inthe focus of tourists arriving in the country, but it is becoming a transit point on the way to the main natural attractions, among which are:
Tropical Education Center, and it is available at the zoo;
Monkey Bay, a nature reserve;
Guanacaste Park.
Belize Zoo was opened in 1983, onToday there live the most famous representatives of the local fauna and other inhabitants of the tropical regions of the planet. In addition, the zoo operates tropical education center, guided tours, lectures, activities for children and adults.
Nature reserve Monkey Bay also offersa wide variety of leisure activities for tourists. In the first place - is canoeing on the river SIBUNIT, nature trail, observation of numerous representatives of the local avifauna.
Photo