Belize Flag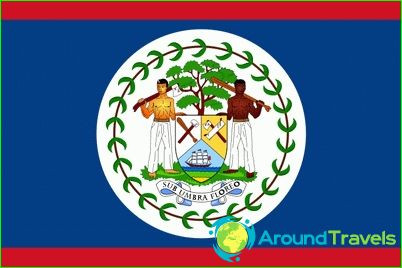 Approval of Belize flag occurred in 1981. September 21 the country gained independence and ceased to exist as a colonial possession of the United Kingdom.
Description and proportions of the flag of Belize
Belizean flag rectangular panel hasStandard proportions adopted for the state flags in most countries. Refers length to width of 3: 2. The flag is identical on both sides.
The main field of Belize flag is deep blueColour. Above and below the blue background bordered by narrow bands of red. In the center of the flag is applied coat of arms, which is still removed from the shaft and the free edge and almost touches the red bars.
The blue color symbolizes the Caribbean Belize flagSea, to which the State has access. In addition, the blue color was a major in the previous flags that existed during the period of British colonial rule. Red stripes on the flag of Belize - tribute to the patriots who shed blood for the sovereignty and the freedom of their homeland.
Coat of arms of the country on the flag of Belize has a circular shape,the boundaries of which are marked tree leaves, strung on a thin line. In the center of the coat of arms - the figures of two woodcutters who keep their shield. Behind the shield depicts a tree with red valuable timber, which is engaged in trade in the territory of the first Europeans. The billboard depicted a sailboat, as a symbol of maritime trade, and crossed oars and Lumberjack Axe. Sami lumberjacks are different races: one of them is a mulatto, and the second - light-skinned.
History of Belize flag
Previous Belize flag existed since 1919. It was a blue rectangular panel, the upper quarter of which is located near the staff, repeated the British flag. The right side of the blue box was inscribed emblem of Belize, called at that time the British Honduras.
In 1950, the country's patriots created a flag thatalmost unofficially considered public until 1981. His blue rectangular box was located the coat of arms, which is essentially different from the modern version.
In 1981, besides the state of the flag of BelizeIt was established and Governor-General of the flag, which is the representative of Her Majesty. Despite independence, Belize - a country with a Westminster system of parliamentary democracy, and its head is still the queen of Great Britain.
Photos of the Belize flag