Belize Resorts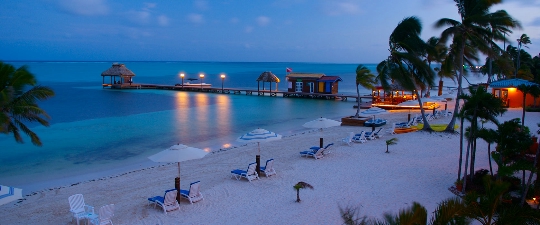 Small, but proud Belize - one of the pooreststates of the Western Hemisphere. Sandwiched between Mexico and Guatemala, it is increasingly becoming the object of interest of foreign tourists for two reasons - the luxurious beaches and opportunities for a great dive. Alas, Belize resorts is hardly a perfect for a comfortable and relaxing stay, but the government is doing everything possible to both guests much as possible foreign sought on local shores and replenish the state budget. The results were not long in coming, and now the Ministry of Tourism was able to report on the millions of foreigners who visited Belize in 2012.
Putting bags
Why fly to the resorts of Belize are all these people and whether Russian travelers to buy airline tickets and rush to distant lands?
Belize Barrier Reef - the world's second largest after the Australian. Opportunities for diving at local resorts appreciated by even scientists oceanographers.
Safe water for windsurfing and scuba diving, boating and water sports make the beach holiday diverse and fascinating.
The jungle and wild river - an excellent base for hiking and rafting, and a huge cave system gives a reason, and speleologists arrive at Belize resorts.
Historic ruins of the pre-Columbian Maya civilization in no way inferior to the Mexican or Guatemalan.
Guided tours of the city of Belize is a great experience from the everyday life of the children of Central American Indians.
Beach paradise
The main resorts of Belize are concentrated on the southern andeast coast and are fishing villages with beautiful white beaches. All of them are similar to each other, but in the tourism ranking each has its own definition and evaluation.
The most friendly resort village named Hopkins, where open authentic restaurants and souvenir shops.
At the seaside you can stay in Placentiahut on the beach, where there is a shower and a bed with a mosquito net. Its main attraction - the narrowest street in the world, but the opportunities for diving, snorkelling, sea fishing or boating on the mangrove forests are truly endless.
Orchid Bay Beaches in the Bay of Chetumal and the more civilized Belize resort boasts comfortable hotels and restaurants quite civilized on the coast.
Photo