Bermuda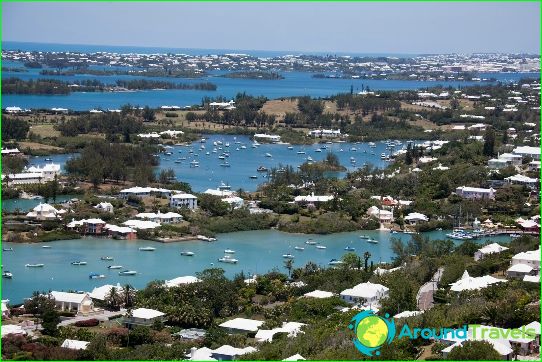 Bermuda is an overseas possessionGreat Britain. Bermuda are of volcanic origin and are characterized by a very beautiful nature. They are located in the Atlantic Ocean, at a distance of 900 km from the coast of North America. Bermuda consists of 157 islands, but people inhabit only 20 of them. Total in the area about 68 thousand people. They are dominated by negros and mulattos. The administrative center of the island is the port city of Hamilton.
Characteristics of relief
The islands were formed on Bermudathrough volcanoes. These volcanoes were formed on "hot spots" of tectonic plates. In this area goes underwater volcanic mountain range, the western part of which is occupied by Bermuda. Near the islands under water, are two mountains that form the banks. They are the basis for coral reefs. The main island is characterized hilly and winding coastline. There are many coves and cozy beaches. Almost 35% of the island is covered with shrubs.
Today, Bermuda is experiencing ecosystemlarge load. Island is small in size, while the population density is high due to the increased flow of tourists. In addition, there is a risk of extinction of some species due to hunting fishing.
History Bermuda
His interesting name of the island receivedthanks to the Spanish captain Juan de Bermudez, who first discovered them in the endless ocean. The first settlement on the islands was founded in 1609 by British settlers. Bermuda officially became a British possession in 1684 to develop agriculture on the island of imported Negroes. In the early 20th century, the specialization of the local economy became tourism. The development of tourism industry contribute to numerous beaches with pink sand. Such sand hue due to the fact that the islands are descended from coral.
Weather
Bermuda prevails subtropicalclimate, moderated by the warm Gulf Stream. High humidity is uniformly distributed, and the average annual temperature is 23 degrees. These conditions are favorable for many plants. Here you can see oleander, hibiscus, juniper and cedar. Strong winds are formed in the winter. They bring with them a cool and cloudy. Even in winter, the air has a temperature of not lower than 18 degrees. In summer, the air warms up to 29 degrees.
The natural world of the islands
Despite the lush vegetation, wildlifeinitially it was poor. Among the rare animals islands, who lived there originally, we can distinguish mountain lizard. People were brought to Bermuda mammals of different species.
Photos of Bermuda