Airports in Cambodia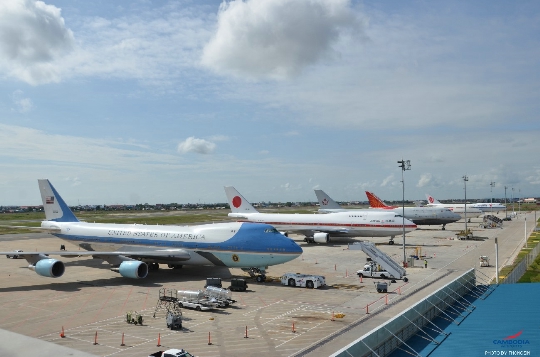 The country of ancient temples, virginjungle and magnificent beaches on the shore of the South China Sea - a popular holiday destination for the Russian traveler. At the airports in Cambodia often enough heard native speech, and the number of restaurants of Russian cuisine local resorts will soon catch up with and overtake neighboring Thailand.
Direct flight to Phnom Penh or Sihanoukville fromMoscow in the schedules of the airlines of the world is not yet listed, but with transfers in Bangkok or Ho Chi Minh City can be here for 10.5 hours to get on the wings of "Aeroflot", Thai Airlines, and Vietnam Airlines.
The international airports in Cambodia
International flights are entitled to three Cambodian air ports - the capital, spa and air harbor near Angkor:
Phnom Penh Airport is located 10 km to the westcity ​​and can serve up to 2 million. passengers annually. For more information on schedules and services contained on the website - www.cambodia-airports.com.
The city, which is Sihanoukville Airportfamous for its beaches and great opportunities for recreation on the sea. The information needed to explore this air harbor, available on the website - www.sihanoukville-cambodia.com.
Air gateway of the country in the city of Siem Reaptake the side of Malaysia, China, Japan, Korea, Vietnam and Thailand. Due to the location near the World Heritage site by UNESCO, this is considered to be the busiest airport in the country. The city center and the airfield share just 6 km away, the easiest way to overcome that is by taxi. All details on the site - www.cambodia-airports.com.
metropolitan area
In 1995, the Phnom Penh International Airporthas undergone major reconstruction. As a result of this work a runway capable of receiving wide-bodied aircraft, and metrology and navigation equipment boasts the latest features that ensure high safety standards.
Two Cambodian capital airport terminalprovide uninterrupted departures of international and domestic flights. In total there are planes taking more than two dozen airlines based in the south and south-east Asia:
Air Asia operate regular flights to Kuala Lumpur.
Asia Atlantic Airlines connects Phnom Penh to Tokyo.
Bangkok Airways will take passengers to the capital of Thailand.
China Airlines aircraft flying in Chinese Taipei.
Dragonair passengers land at the airport after a Cambodia trip from Hong Kong.
Korean Air performs flights to Seoul.
Vietnam Airlines brings everyone in the city of Hanoi, Ho Chi Minh and Lao Vientiane.
It offers air emitted from the capitalharbor - duty-free shops, 20 check-in desks, waiting room for VIP-persons, and car rental. For the transfer to the city it's best to choose a taxi - its services in the country is not too expensive.
Photo