Traditional cuisine of Cambodia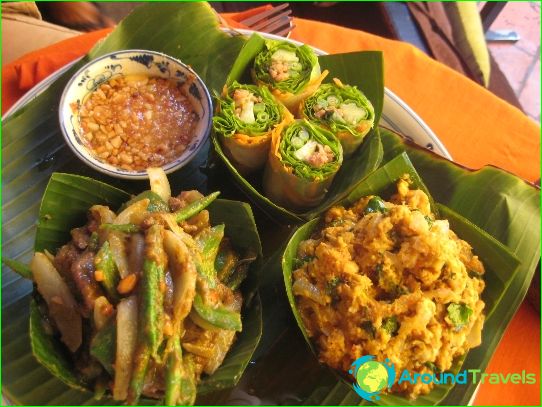 Food in Cambodia is characterized by relatively low prices, especially if you buy food from street vendors.
Many hotels offer their guests tours inbuffet breakfast included, but because they represent a light snack, then it is advisable to purchase a room with a fridge and buy food in local supermarkets.
Food in Cambodia
Khmer cuisine like Thai, but many of them are less sharp and not as diverse as Thai and Vietnamese cuisines.
Diet Rouge consists of rice, fish,noodles, seafood, soups (fish offal, rice or noodles, vegetables, spices and herbs), meat (pork, beef, goat, chicken), vegetables, fruits, herbs, eggs (chicken, duck).
Locals love rice - they fry it, soar, cook with meat, vegetables, seafood, with grass, tree leaves and exotic fruits.
Rouge prefer to gather fruit harvestwhen he was not yet ripe - they add these fruits to soups and meat dishes (they are instead of foreign potatoes add to their dishes bananas and pineapples). For example, pineapple cubes often stir-fried with pork, added to soups, noodles or fried on a skewer with a barracuda.
In Cambodia, should eat fish,seafood or chicken, cooked in coconut milk with the addition of curry (amok); soup to beef, broth based on pork or seafood with noodles (k'tieu); sweet and sour soup, which is based on fish, tomatoes and pineapple (somlah machou khmae); fried pork with ginger; crab with pepper (k'dam); chopped steak (lok lak); grilled fish with vegetables and sweet chili sauce (trey ch'ien chou 'ayme).
A sweet tooth should try the fruit (mango, passion fruit, purple mangosteen, durian, pineapple, rambutan, lychee) and local sweets (pong aime).
As for lovers of exotic foods, then for them there can cook fried spiders garlic sauce, raw meat of snakes, insects, larvae, frogs, sea lilies, bamboo shoots.
Where to eat in Cambodia?
At your service:
- Chinese restaurants;
- Cafes with national cuisine;
- Restaurants where you can enjoy Khmer, European, international and Asian dishes;
- Fast food places (Lucky Birger).
Drinks in Cambodia
Popular beverages Rouge - palm juice, fresh bamboo juice, green tea, iced coffee, Samrong and tekdong (palm milk), beer, rice wine.
In Cambodia, you can taste local (Angkor, Anchor) and imported (Heineken, Tiger, Carlsberg) beers.
Since many local beers arerather poor quality, it is advisable to purchase imported. And, despite the fact that the local villages extremely cheap to buy palm and rice wine, it should not drink for sanitary reasons.
Gastronomic tour in Cambodia
The gastronomic tour you will be able to visitKhmer villages, where you will be served national dishes made with natural and organic products ( "Chemistry" has not had time to take root in the local agriculture).
On vacation in Cambodia, you will find numerous monasteries, visit the interesting excursions, taste national dishes.
Photos of Cambodia national dishes