Holiday in Cambodia in May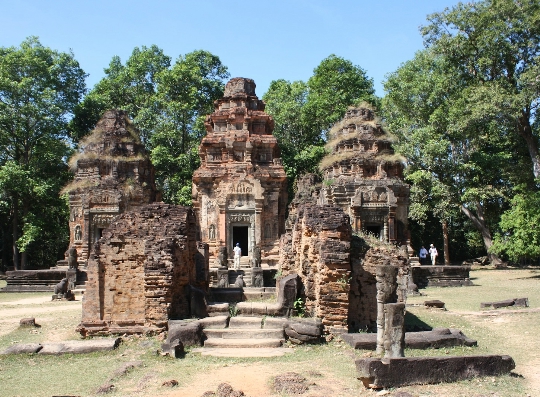 Finally Cambodia out of the shadow of tourist business monster, Thailand, and begins an independent life of the country, ready to satisfy all the needs and demands of every guest.
Climatic conditions
Cambodia located in the tropics and thereforemonsoons and heat come along with summer, dry weather set in winter. Tourists should be prepared for frequent rain and stock up umbrellas and raincoats. However, in May - this is not the wettest month that can not please the tourist, who came on holiday in Cambodia in May.
Rules of life
So far, this country can not be compared with their more advanced neighbors in tourism on the number of hotels. However, you can find affordable decent hotel.
One of the tourist entertainment, living intowns and cities, it is a visit to the local markets. Unfold it very early, so early desirable tourist send to your feet to enjoy the amazing range. Towards noon trade stops - coming local siesta. As a souvenir fine disperse the finest silk fabrics, jewelry, woven products from local artisans.
Educational excursions
Cambodia slowly reveals its touristamazing place, offering a journey in the depths of history. One popular route is through Angkor, the ancient capital of the Khmer. In total there are about a hundred survived unique temples and palaces. Only tourists having a good imagination can try to imagine how it looked here before.
More tourists love to walk on the Phnom Penh, the capital ofkingdom. Many of the sights were irretrievably lost as a result of various military operations. But among the many skyscrapers and modern architectural structures can be found true cultural treasures, such as Silver Pagoda.
The rules of etiquette in pagodas
Rouge very peacefully set againstforeign guests and forgive them much, including excessive curiosity, stupid questions and not quite proper behavior. Yet when visiting the holy places for every Cambodian should be aware of some rules and try to stick to them. In particular this applies to clothing: unacceptable mini skirts or short shorts when visiting temples, shoes are always left behind a threshold. Yours should be treated the monks, to ask permission to take photographs, to leave a small donation.
Photos vacation in Cambodia