Cambodia Holidays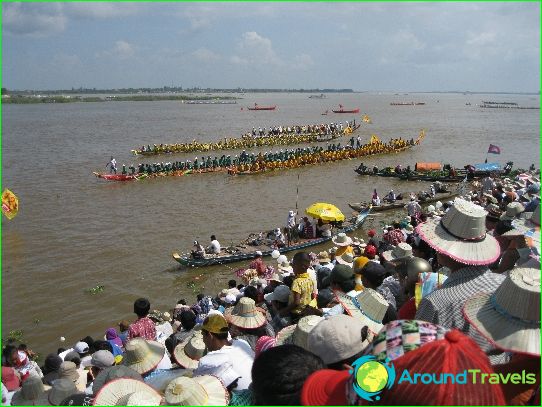 This country distinguishes its multinationalresidents, so Cambodian people celebrate holidays in their own way. The Chinese and Vietnamese, for example, traditionally live in accordance with the lunar calendar, the New Year and they came at the end of January - beginning of February. But the Khmer year countdown begins only in April.
Water Festival "Bom Om Tuk"
This is the main holiday of the calendar Rouge. The festival takes place in November and lasts three days. These days, millions of visitors from around the world in a hurry to visit the state capital - Phnom Penh. This is where the water Tonlepas and Mekong rivers become the venue for the regatta. For the inhabitants of the country - it is not just a beautiful show, but the holiday season is the opening of fishing.
In short swim sent numerous boats, painted in the colors of 21 provinces of the country.
The festival also has a second name - Festivalrotation water. The celebration always coincides with the end of the rainy season. Another event guests can watch absolutely amazing event - the Tonle Sap river these days changes the direction of flow.
The festival is accompanied by mass celebrations. In Phnom Penh in those days drained nearly half of all people in Cambodia.
Royal Ploughing Day
End of April - beginning of May - "hot" it is time for the Cambodians. It was at this time the planting season begins in the country. And it opens the Royal Ploughing Day.
The second title of the day - the first Festivalsulcus. Traditionally, on this day in the rice fields, located near the royal palace, the country held the first plowing. And if earlier it was a privilege of the ruling monarch, now do elected King and Queen of the festival.
Sacred cows harnessed to the plow and dojust three laps around the field. Then they are led to a table where there are 7 courses. There is a plate with corn, rice, beans, corn, wine and water. Depending on what will choose animals, conclusions about the successful year. For example, the selected water and grain promise prosperity, but the herbs promise frequent diseases of livestock.
Holiday Visak - Bucha
This is a great religious holiday, which residentsCountries on the last days of April. Celebration lasts a week, but the most important is considered the first day. On this day, the Angkor temple becomes the venue for the grand performance - the procession of monks with candles.
Especially a lot of attention to the tree star anise,because according to legend, it was under his crown on the Buddha descended enlightenment. Buddhist temples are decorated and certainly the country all day long in their holiday reading sutras.
In the evening, at dusk, across the country lit candles and lanterns.
Photo