Toronto area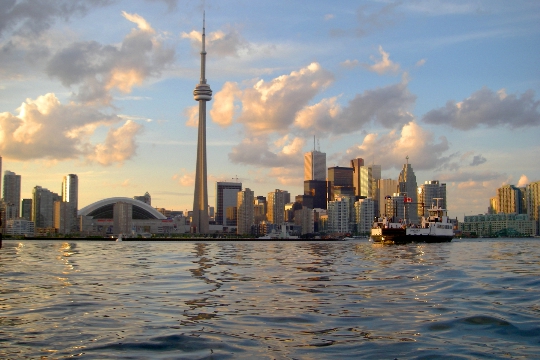 Toronto area are diverse and have distinctive features, which should meet before you go to this or that area of ​​the city.
Names and descriptions Toronto area
Harbourfront: the area - the center for festivals and concerts, and in addition, there is the cultural center of Harbourfront Centre with exhibition halls, galleries, museums, ice rink, food establishments, and the television tower CN Tower (rising express elevator to the observation deck, equipped with a glass floor and located at 380 meters altitude, it is possible to make pictures of the city and its environs).
Yorkville: Here it is recommended to visit the Royal Museum (the museum's collection includes over 6 million archaeological, paleontological and other items), the Museum of Ceramics (in addition to the inspection of various items of pottery, visitors will be able to buy your favorite product in the open here store) and the Museum of shoes (among interesting exhibits shoes stand Winston Churchill and Elvis Presley).
Church Wellesley: popular among people of non-traditional sexual orientation - there are bars and nightclubs, and the end of June held a gay pride parade.
Cabbagetown: tourists will be able to do a lot of unique photos on the background of Victorian style buildings. It is worth noting that the area is gradually overgrown with expensive restaurants and boutiques.
Financial District: interesting object for examination - Financial Exchange Toronto Stock Exchange (a place of trade in securities).
Path: district will delight tourists boutiques and supermarkets (under the ground is more than 1,000 stores, which will be offered to acquire clothing, household goods, books, jewelry, cosmetics), cafes and restaurants, mini-parks and fountains.
Toronto Attractions
Armed with a tourist card, guests will be able todo research interest - High Park (zoo will delight travelers, playgrounds and sports), the Botanical Gardens, Allan ( "Tropical greenhouse" invites guests to enjoy the hibiscus and dope, "Greenhouse cactus" - cacti and succulents, "cool greenhouse," -tsitrusovymi trees, a small pond and waterfall), Casa Loma castle building (its territory holds a miniature botanical garden, library, stables, in the domestic interior noteworthy expensive chandeliers, Occasional furniture, rooms, reflecting the original design solutions), zoo (5000 animals live in the 6 zoogeographical areas, some of which are contained in closed tropical pavilions), the fortress fort York (national holidays the tourists will be able to see the military parade).
Where to stay tourists
Housing in Toronto - it's luxury hotels andmodest hotel B & B (Bed and Breakfast). You can stay near the airport If desired, Pearson - in the area are accommodation facilities of different classes. So, tourists can go 2-star "Travelodge Hotel Toronto Airport".
If you want to stay in a luxury hotel, offers "The Ritz-Carlton Toronto", a gym, spa-salon, a restaurant, where guests are served wine from the wine cellar.
Photos Toronto area