Zoo in Toronto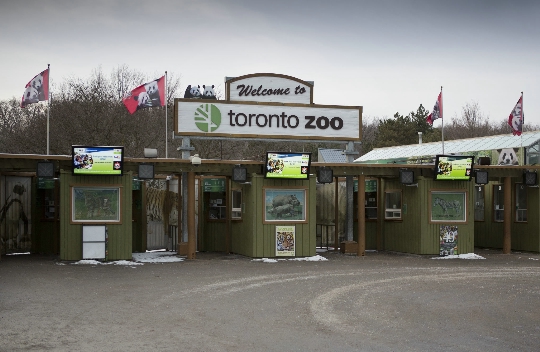 This park is the largest city in Canada was foundedin 1974 on the site of the old zoo Riverdale. Today, Toronto Zoo - the largest in the country. Its territory covers 280 hectares, and the diversity of the regions here and climatic zones of the world is amazing. More than 5,000 animals of 450 species live in the park under the strict supervision of a caring staff and scientists involved in the conservation of endangered and rare species.
Metropolitan Toronto ZOO
The name of the Toronto Zoo - a synonym for the newapproach to breeding and keeping of wild animals in captivity. All cages, pavilions and stands almost completely mimic wild conditions, and none of the residents of the park does not feel uneasy or uncomfortable. naturalistic environment enables visitors to feel like full-fledged naturalists in the wild.
Pride and Achievements
Seven regions, which are divided ZooToronto, will help visitors to travel back to Indonesia, Africa, Australia, Eurasia, the expanses of tundra in the American prairie and Canadian lakes. One of the most popular southern enclosures - home of giant pandas, and Northern - the territory of polar bears.
How to get there?
Address Zoo - 2000 Meadowvale Rd, Toronto, ONM1B 5K7, Canada. Reaching here can be on the car - the main entrance is located on Meadowvale Road, north of Highway 401 to exit from the road you have to take Exit 389.
To get to the subway, you need to take the train line 2 and get off at the final station Kipling. From there to the zoo regularly for buses.
Helpful information
Hours Toronto Zoo depend on timeof the year. In winter, the park is open from 09.30 to 16.30, and in the summer - longer than an hour. Details of the operation of the zoo and its individual exposures is best to clarify the official site. The last tickets are sold no later than one hour before closing.
The price of tickets is also different in summer and winter:
From May 1 until November 1, the adult price and children (3 to 12 years) ticket is $ 28 and $ 18, respectively.
November 2 until April 30, adults and children's tickets will cost $ 23 and $ 14.
Visitors over 65 years of age can purchase tickets for $ 23 in the summer and winter - for $ 18.
Kids under 3 years old visit the park free of charge.
Save almost half the cost of a ticket to the zoo will buy Toronto CityPass. Ticket office park take absolutely all the cards and payment systems.
A document with a photo to confirm eligibility required.
Services and contacts
In the zoo there are souvenirstalls and gift shops. ATMs are located at the main gate, and in the storage room can be rented locker. Several restaurants in the park will help to maintain the strength and refreshment during a fascinating walk.
Parking at the zoo Toronto paid. Price of parking one car - $ 12.
Official Site - www.torontozoo.com.
Phone +1 416 392 5929
Photos Zoo in Toronto